Oobit is a leading mobile payment app that offers a seamless way to pay with crypto both in-store and globally. Users can enjoy a crypto Tap & Pay experience as convenient and smooth as Apple Pay, utilizing existing Visa/Mastercard point-of-sale systems while ensuring merchants receive fiat currency.
Since 2017, Oobit has been spearheading the mass adoption of cryptocurrencies as a means of payment for goods and services. The app is designed to provide a secure, practical, and user-friendly solution for individuals to effortlessly utilize their crypto in everyday transactions.
Currently, Oobit operates in the EU and plans to expand to the APAC region and the USA.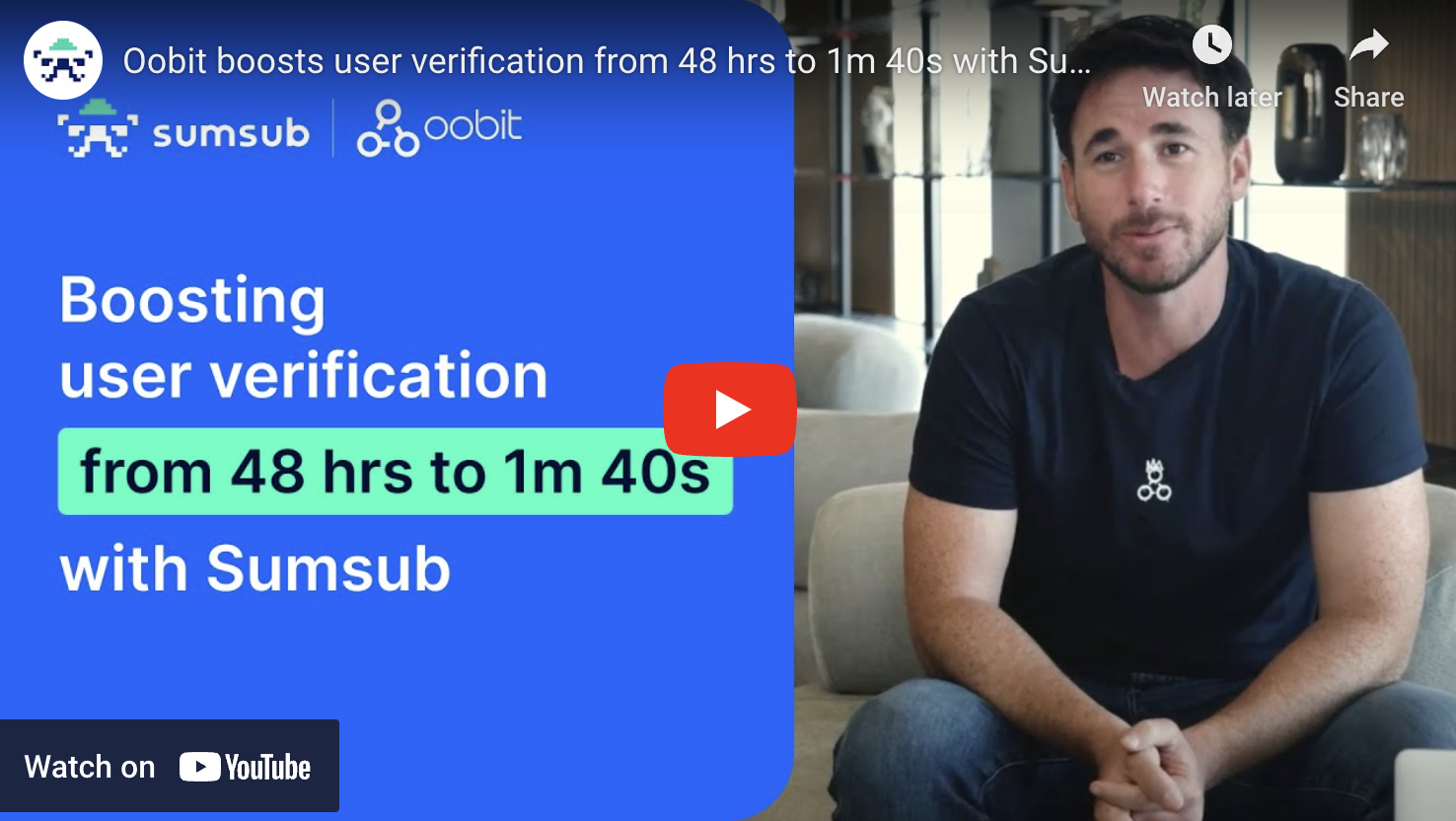 The Challenge
In order to comply with regulations and maintain trust in their community, Oobit needed to conduct KYC/AML checks to verify every new user.
Prior to working with Sumsub, they partnered with another verification provider but weren't satisfied with the results. This solution wasn't automated, so Oobit ended up doing most of the checks manually. This was manageable with fewer sign-ups, but when the company started to receive a lot of traffic, it was hard to keep up.
Since Oobit's previous verification solution didn't provide a liveness check, users had to take several selfies and upload them to the system separately, which took a lot of time.
This resulted in significant drop-offs and low pass rates. Also, the database of blocklisted and banned persons was limited, which meant that fraudsters could potentially fly under the radar during  verification and create unnecessary risks.
So, Oobit eventually started looking for a better solution—one that could increase KYC pass rates and eliminate fraud.
Why Sumsub?
Partnerships and communities play an important role in the crypto industry. So, when users and partners recommended Sumsub, Oobit listened.
After conducting several tests, Oobit made the final choice to go with Sumsub. Here's why:
User-friendly interface
Automated checks
High level of trust
Customizable verification flows for different product offerings
Short processing time and high verification speed
Strong anti-fraud protection that detects 100% of fraud attempts
Responsive 24/7 support
The Solution
Oobit's user verification process is covered by Sumsub's Web- and Mobile SDKs. This means automatic KYC/AML checks for faster onboarding and filters that stamp out suspicious users. All this is combined with checks like AML screening for international sanctions, PEPs, watchlists, and adverse media, ID verification, liveness and Face Match, and PoA (proof of address).
KYC/AML checks to get high pass rates
To get onboarded, the user goes through a simple, three-step KYC/AML procedure:
Step 1: Present proof of identity—including first name, last name, date of birth, nationality, and full address;
Step 2: Upload ID document—ID card, passport, or driver's license);
Step 3: Pass Liveness and Face Match—ensuring the user is alive and truly present during identity verification.
In special cases, Oobit may also request additional data from users.
"We love the fact that Sumsub provides the user with either a verified acceptance or rejection immediately. This saves users' valuable time and makes the onboarding experience far more convenient and user friendly." - Amram Adar, co-founder and CEO at Oobit
Fraud prevention
When it comes to blocklist databases, Sumsub's are built from years of experience verifying users worldwide. This enables Oobit to stop fraudsters in their tracks by checking them against a database of blocklisted and banned persons.
KYB for simple onboarding of businesses
Apart from KYC/AML checks, Oobit also uses Sumsub's KYB solution, which streamlines business to onboarding through the following steps—Automated Corporate Registry Check, Corporate AML Screening (international sanctions, watchlists and adverse media), Ownership and Management Structure Check.
Reusable KYC to eliminate repeat verifications
Together with their partners (such as Moonpay), Oobit also utilizes Sumsub's Reusable KYC,  a one-time user verification solution for companies within a single network. With Reusable KYC, companies can eliminate repeat verification for users who have already passed Sumsub's checks with partners.
Verified users just need to approve their identity via Face Authentication, saving time and effort on additional verification. This results in a user experience that boosts conversion and reduces verification costs.
"Sumsub's solution brings Oobit's vision of agile crypto payments to life with its full automation of user verification and validation, while meeting all necessary regulatory requirements. On top of the easy and fast onboarding process, we also place an emphasis on upholding Sumsub's top-notch security protocols." - Amram Adar, co-founder and CEO at Oobit
Implementation
The product integration was fast, smooth, and clear, lasting just one month. Sumsub's development team was there to help at every step of the way and provided an immediate response to any issue.
The Results
Oobit saw impressive results within the first week of using Sumsub.
Verification time went down significantly. Before it took Oobit up to 48 hours to verify users.  With Sumsub, it now takes less than 1.5 minutes.
The conversion rate increased by 30% just in the first month, and the success rate grew significantly.
As far as fraud cases, all have been eliminated thanks to Sumsub.
"With Sumsub, we've managed to reduce user fraud to practically zero. Since we began using Sumsub, fraud is just one less thing we've had to worry about." - Amram Adar, co-founder and CEO at Oobit
Future plans
Oobit plans to expand globally. They are currently working on licenses that would allow them to operate in different regions such as Asia and the US. Sumsub's certified legal team will be there to help at every step of the way.
They also plan to launch credit cards and transactions aimed at buying crypto off third parties. This would require them to conduct more KYC/AML checks, and Sumsub will be there to help. They also plan to integrate credit card processing with big businesses that are going to adopt crypto as payment methods, which will drive many users to Oobit.

---
Oobit Technologies Pte, 50 Raffles Place #37–00 Singapore Land Tower, Singapore (048623). is a company registered in Singapore (no:201716443G), that has been approved as Appointed Representative of Oobit Technologies OÜ, Harju maakond, Tallinn, Lasnamäe linnaosa, Väike-Paala tn 2, 11415, (no: 14852617 ). Which is authorized and regulated by the FIU (no: FVR001421 and FRK001304).