TerraUSD lost roughly 50% of its market value while LUNA is down nearly 85% in just 24 hours. What the hell is going on? Let's find out.
TerraUSD (UST), once the third biggest stablecoin, is in the midst of a tumultuous nose dive as the once $1-valued cryptocurrency trades at $0.50. On 4 May, LUNA was trading at $87.80, but just a week later it is worth a mere $4.50. While prices have seen a decline across the entire market, these drops in the Terra ecosystem are heavily concerning.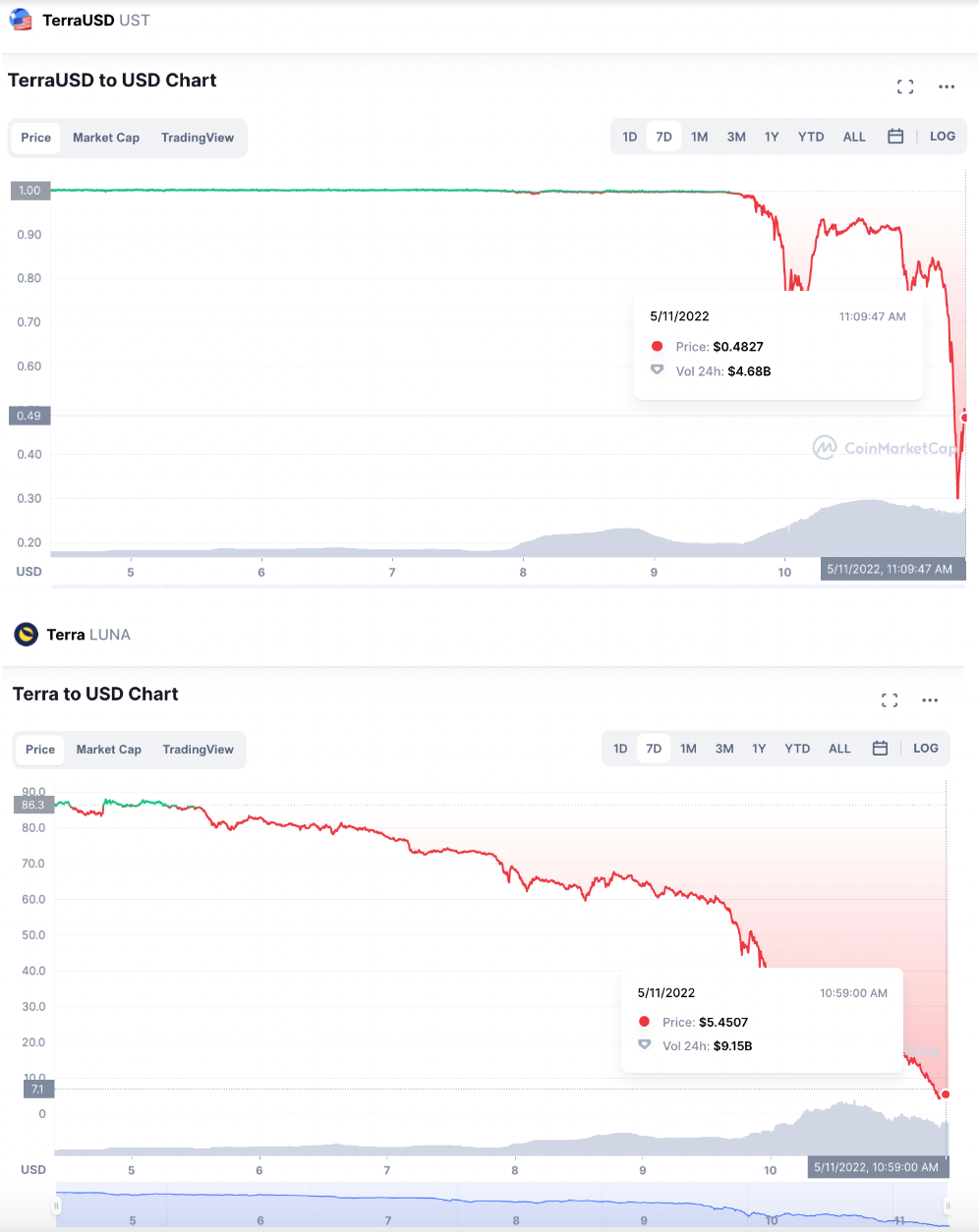 Following the decline in the LUNA price there were global liquidations on leveraged positions, causing LUNA's market cap to continue dropping, falling just shy of 80% in a matter of days. With LUNA's market cap below that of UST's, this indicates that the project doesn't have enough funds to properly back the value of the algorithmic stablecoin, hence UST losing 50% of its value.
In order for UST to be pegged to the USD, UST's token mechanics ensure that traders can always redeem $1 of LUNA for $1 of UST. When LUNA's market cap dropped below that of UST, traders were unable to make the 1:1 trade and the stablecoin effectively un-pegged.
While LUNA prices were experiencing a decline (relative to the rest of the market) the catastrophic downfall is believed to have officially began on Sunday, 8 May, when a crypto whale sold $285 million worth of UST, causing the UST price to dip from $1 to $0.98 and LUNA to $62 (a 3-month low).
In the midst of the chaos, Terra founder Do Kwon tweeted "Deploying more capital - Steady lads."
To rectify the situation, the Luna Foundation Guard deployed $1.5 billion of Bitcoin in an attempt to add liquidity to the ecosystem, acquiring two $750 million loans, one to accumulate BTC and the other to protect the UST peg.
Analysts remain heavily sceptical over Bitcoin being used to back a stablecoin, considering that the biggest cryptocurrency has lost nearly 20% of its value in a week. Briefly dropping below the $30,000 mark for the first time in ten months, Bitcoin faces hurdles of its own.
Despite the injection of BTC, UST remained unable to return to its $1 peg causing grave concern for the so-called "stability" of stablecoins. It's worth noting, however, that this stablecoin is an algorithmic stablecoin maintained using smart contracts and LUNA while other big cryptocurrencies such as Tether and USD Coin are pegged to a fiat currency.
So what does this mean for the rest of the market? We asked Aharon Miller, Oobit's Co founder and COO to give us the lowdown.
With fast paced changes in the cryptosphere, it's always advised that investors keep an eye on what's happening in the market, particularly with diversified portfolios. To stay on top of fast changes, be sure to keep an eye on Oobit.
---
---
Oobit Technologies Pte, 50 Raffles Place #37-00 Singapore Land Tower, Singapore (048623). is a company registered in Singapore (no:201716443G), that has been approved as Appointed Representative of Oobit Technologies OÜ, Harju maakond, Tallinn, Lasnamäe linnaosa, Väike-Paala tn 2, 11415, (no: 14852617 ). Which is authorized and regulated by the FIU (no: FVR001421 and FRK001304).