Since launching in 2017, we have consistently pushed the envelope to ensure that our products are innovative, solution-focused and in line with our drive to increase cryptocurrency adoption in everyday life. It is with great excitement that we announce the launch of our latest feature, Oobit Pay.
Oobit Pay offers a fast and easy way to pay friends and businesses with crypto, all through the convenience of a mobile app. Today, individuals and businesses can harness the power of Oobit to send and receive crypto payments worldwide with zero fees.
Oobit Pay is designed for the people, from students to hairstylists to main street cafés and everything in between, to access and use crypto for their everyday needs.
Why Use Oobit Pay?
This new feature not only allows you to pay and get paid in crypto but also provides instant transactions with some of the lowest fees available today.
You can immediately manage balances, send cash to businesses or split the bill with friends without having to wait for network confirmations or bank authorisations. It's like an instant bank transfer, only using crypto.
Oobit Pay offers a 100% free way in which you can send and receive crypto with no hidden costs - yes, no network fees or monthly fees, just straight-forward online payments. With a focus on fast cash-in and cash-out functionality, all transactions on the app are settled within 1 - 3 seconds allowing users to send money instantly.
Minimum amounts? We've got you covered there too. The minimum amount to send or receive on Oobit Pay is just $0.01.
With the same high-end security measures that Oobit is known for, Oobit Pay also ensures maximum privacy and the guarantee that no activity is shared with users' bank accounts.

Oobit For Business
For the first time, Oobit is also opening the doors for businesses to tap into a crypto-paying customer base. Companies can now enjoy the fast and effective world of crypto payments with direct access to on-ramps and off-ramps for fiat and crypto.
The app offers one of the safest mobile payment options for small businesses, where one can manage their entire portfolio and transaction reports in real-time.
Expose your business to a new demographic of crypto-paying customers by utilizing Oobit Pay to handle all your crypto payments. With our customizable Oobit business profiles, companies are able to track transactions in real-time and take advantage of instant cashouts in local fiat currency directly to their bank accounts. Oobit business accounts also allow companies to receive an orderly transaction invoice via QuickBooks providing effortless bookkeeping.
Leverage crypto by tapping into alternative payment solutions and watch how Oobit Pay can make your business boom.
How to Tap Into Oobit Pay
Signing up for Oobit Pay is simple and already available to all existing Oobit account holders. Simply download the app and voila, you've tapped into the easiest way to send money internationally.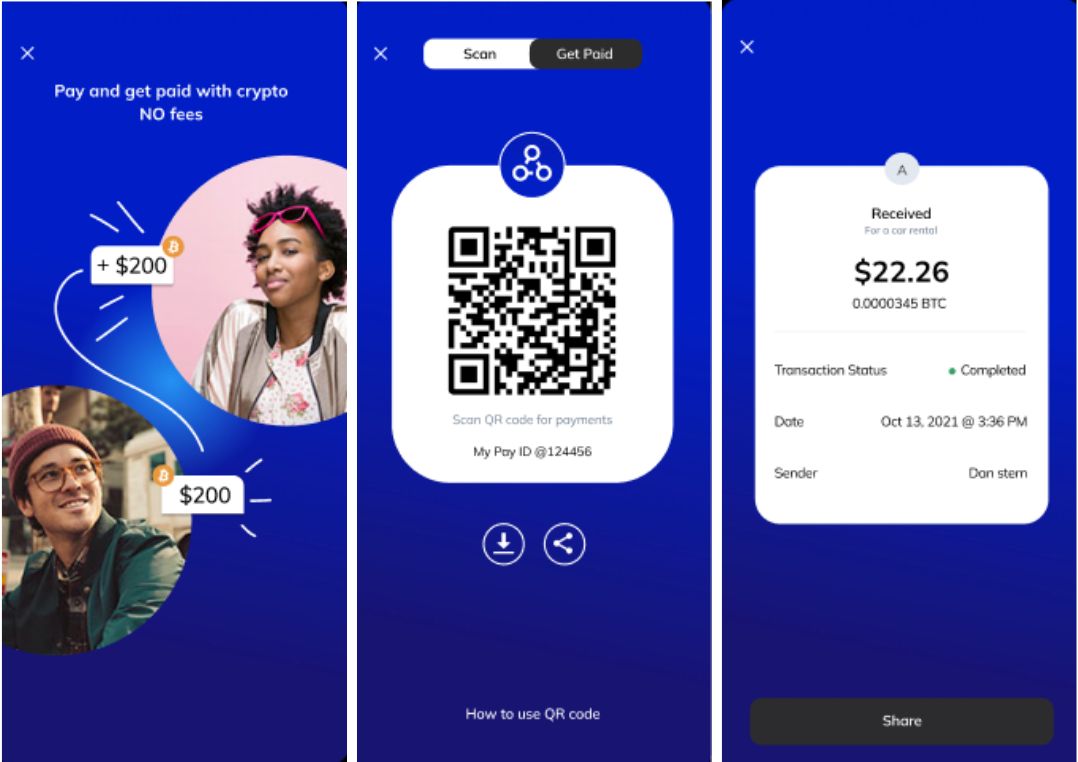 Select the Pay option in the right-hand corner and view your current balances. See here for more help on how to send and receive instant payments, or check out our FAQs at the bottom.
Leverage Crypto With A Convenient Payment Service
Download the app to access a faster, cheaper and more convenient way to pay and get paid in crypto. Oobit Pay lets you manage multiple crypto assets in one place, move between crypto assets in one tap, as well as instantly pay friends and businesses with the same ease.
Enter the next phase of crypto adoption with Oobit Pay and save money with Oobit. Be on the lookout for our next product launch, the highly anticipated Oobit VISA Debit Card.
FAQs

What's the most money I can send using Oobit?
There are no limits when sending money through Oobit Pay, anyone can send any amount (literally billions).
Can I use Oobit to buy or sell merchandise, goods, or services? 
Yes, Oobit Pay offers a fast and cost-effective way to pay and get paid in crypto. With instant transactions and zero fees, Oobit is a leading crypto payment gateway.
Learn more about how to get paid in cryptocurrency here and tap into the advantages of getting paid in Bitcoin today.
Where can I learn how to accept crypto as a business?
Learning how to accept crypto payments as a business is simple with Oobit Pay. All you need to do is display your chosen crypto wallet QR code to your customers and accept the payments through the app.
For example, if you would like to accept Bitcoin payments, locate your Bitcoin wallet in your Oobit profile, download the QR code displaying the wallet address, and position this at your POS or online store. Oobit offers one of the easiest crypto payment solutions.
How do I receive crypto with Oobit Pay?
Receiving funds is easy. Simply request the payment from your device, or provide your wallet details or phone number to the person paying. The funds will clear immediately after confirmation.
Is it safe to transfer money with Oobit Pay?
It is 100% safe, we take security very seriously at Oobit. That's why we integrated a patented, air-gapped vault designed by cybersecurity experts into our money transfer-focused system.
How many cryptocurrencies does Oobit Pay support?
Oobit Pay is not only the leading app to accept Bitcoin payments, users also have access to over 35 different cryptocurrencies, allowing you to easily and instantly manage your entire portfolio from one secure place.
Can I use Oobit Pay if I don't have a crypto wallet?
Don't worry, we'll create one for you. When you sign up to Oobit you will automatically acquire a number of wallets, all accessible on your dashboard or in the mobile app. Oobit Pay allows you to instantly make and receive payments directly from these wallets.
Can I send crypto to someone who doesn't own crypto?
Yes, they will receive an SMS letting them know that the funds are available and how to access them. The person will then need to create an account with Oobit in order to use the funds.
---
---
Oobit Technologies Pte, 50 Raffles Place #37-00 Singapore Land Tower, Singapore (048623). is a company registered in Singapore (no:201716443G), that has been approved as Appointed Representative of Oobit Technologies OÜ, Harju maakond, Tallinn, Lasnamäe linnaosa, Väike-Paala tn 2, 11415, (no: 14852617 ). Which is authorized and regulated by the FIU (no: FVR001421 and FRK001304).