At the forefront of crypto integration, OBT stands tall among the tokens making a positive change to the greater financial landscape. The token not only fuels the Oobit platform but also ensures that users get access to instant crypto transactions while paying zero fees. Yes, there's more.
OBT Powers Fast Crypto Transactions
The native token originally built based on the Ethereum ERC-20 token standard is now also compatible with the Binance Smart Chain, allowing for a plethora of use case functionalities. That aside, its primary function is to facilitate transactions on the OobitChain network.
Through the Oobit app, users gain access to instant crypto transactions for free. Conducted off-chain, extremely minimal fees are incurred, simply fast payments across a range of supported cryptocurrencies including Bitcoin, Ethereum, Dogecoin, and more.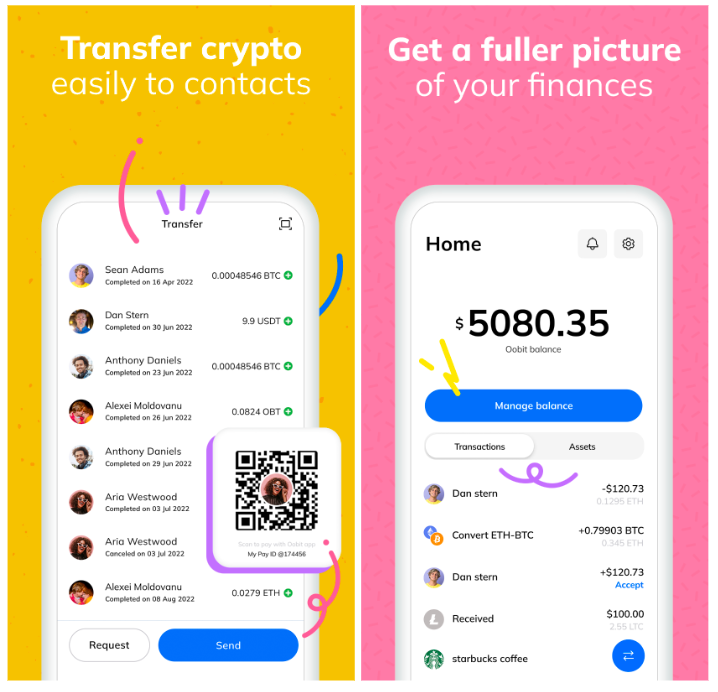 The app requires users to produce a mobile phone number, from anywhere in the world, or a wallet address, to where the funds can be sent. Should the recipient not have an Oobit wallet, they will receive an SMS to inform them that they have funds waiting on the app.
While great for sending money to friends and family or splitting the bill, the Oobit app also serves an important purpose in the drive for crypto adoption. The app allows for instant crypto payments to businesses, eradicating the delays typically associated with crypto transactions.
Cross Border Payment Sorter
Due to the nature of blockchain technology, distance plays no role in the time and costs it takes to conduct transactions. While cryptocurrencies can typically be sent across borders for a fraction of the time and cost it takes fiat transactions to clear, the Oobit app takes things one step further.
Utilizing OobitChain, the network has implemented protocols to ensure that the cost per transaction will always be lower than $0.001. With minimal fees, no waiting periods, and a range of cryptocurrency options, the solution provides a win-win for both businesses and consumers.
Businesses can now accept payments from customers all over the world, tapping into the 300 million consumers already using cryptocurrencies to fund their retail endeavors. Oobit offers a solution directly to businesses, providing a smooth transition from crypto to fiat or vice versa.
OBT Investor's Delight
Aside from its core functions, the token can also be used as a payment option, and to reduce fees within the app. Investors can trade the token on top exchanges including MEXC and PancakeSwap, or buy it directly through the Oobit app.
For anyone looking to bridge between the ERC-20 and BEP-20 versions, simply send the funds to your Oobit wallet and select your preferred option when withdrawing.
With a wide range of functionalities, OBT is most celebrated as being the solution to your crypto transaction problems.
To find out more, see our OBT page here or find links to trade OBT here.


Oobit Technologies Pte, 50 Raffles Place #37–00 Singapore Land Tower, Singapore (048623). is a company registered in Singapore (no:201716443G), that has been approved as Appointed Representative of Oobit Technologies OÜ, Harju maakond, Tallinn, Lasnamäe linnaosa, Väike-Paala tn 2, 11415, (no: 14852617 ). Which is authorized and regulated by the FIU (no: FVR001421 and FRK001304).