Analysts predict that in five years' time we will be using payment systems that don't yet exist alongside the traditional payment methods that have remained the same for decades. While cryptocurrencies are not going to outright replace fiat currencies, they are going to provide a choice over which currencies one wishes to use, shifting the conversation from "which bank do you use?" to "which currency do you use?"
Taking a look at what payments will look like in five years and how regulation is evolving, we explore the forecast for crypto adoption.

The Current State Of Adoption
As the cryptocurrency industry continues evolving the way that we understand ownership and value transfer, the adoption rates continue rising. The current growth rate of crypto users is over 100% per year, significantly higher than that of the internet in the 90s and early 2000s.
If growth rates lower to 80% they will still reach 1 billion users by 2024. This equates to 1 in 8 people on the planet engaging in crypto in some way.
Currently in the United States, 15% - 20% of consumers own or have invested in crypto. Vice President of Global Business Development at PayPal, Jose Fernandez da Ponte explains "in our experience, if the use of a certain technology exceeds 10% of the population, the road to full adoption is fast."
​​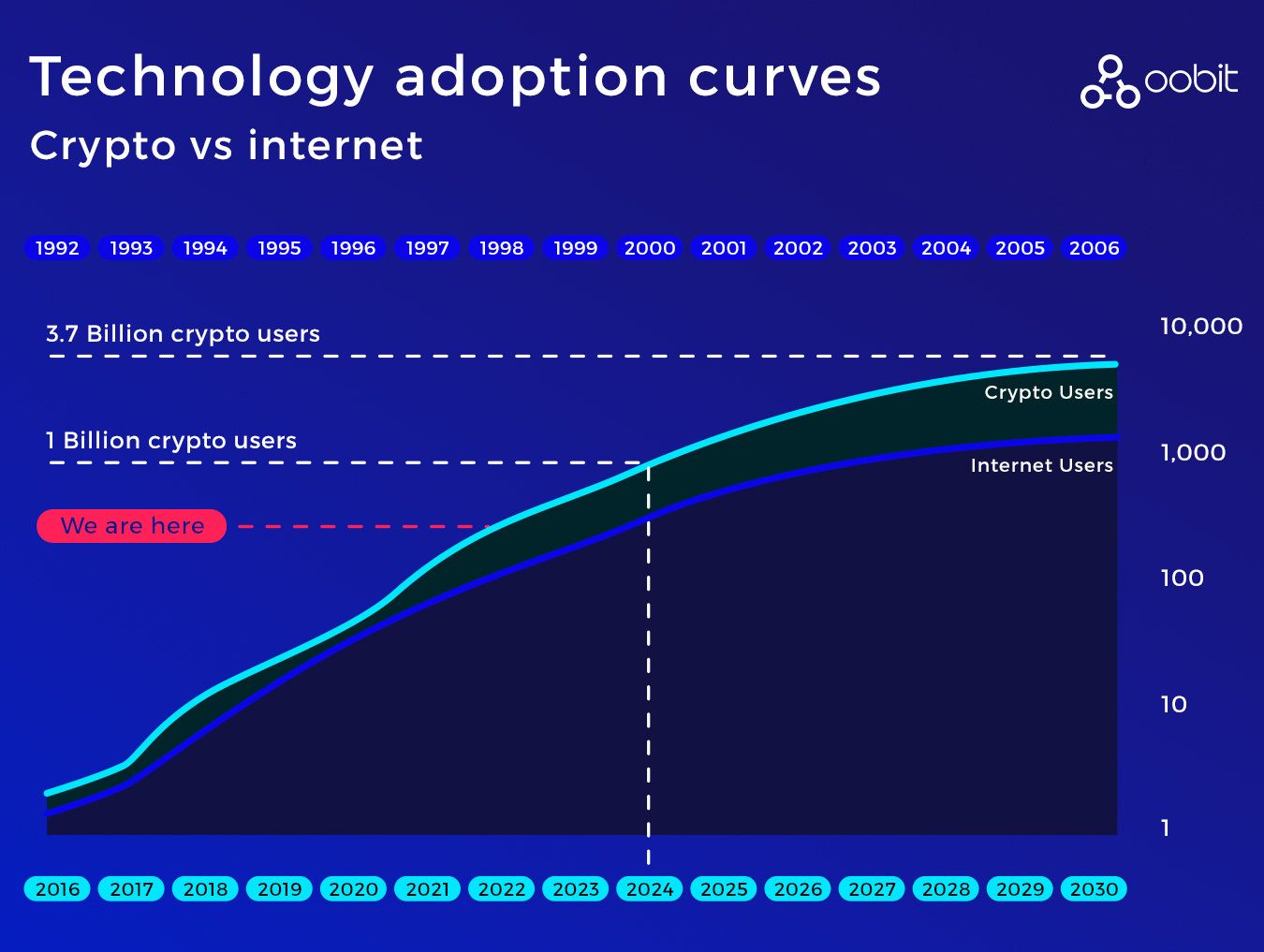 What This Means For Banks
Banks and financial institutions, in general, are notorious for being stuck in their ways and on the less-interested side of innovation. This remains true for their attitudes toward cryptocurrencies and blockchain, however, we've seen a definite shift as around 100 national banks around the world have extended themselves to explore CBDCs (central bank digital currencies).
Harnessing the power of blockchain, CBDCs provide a digital version of the national currency, intended to work alongside the traditional currency. Perhaps some fear they will be made redundant if they don't comply.
Speaking on the future of banks and traditional financial services in the industry, da Ponte shed light on where PayPal might be in a few years' time. He said that the company is busy researching and studying tokens around the world that are designed for payments. He commented that they are also exploring issuing a stable currency for payments (stable as "no seller and trader is interested in volatility") but should they find one that meets their needs and allows for large-scale payments they "will be happy to adopt and use it."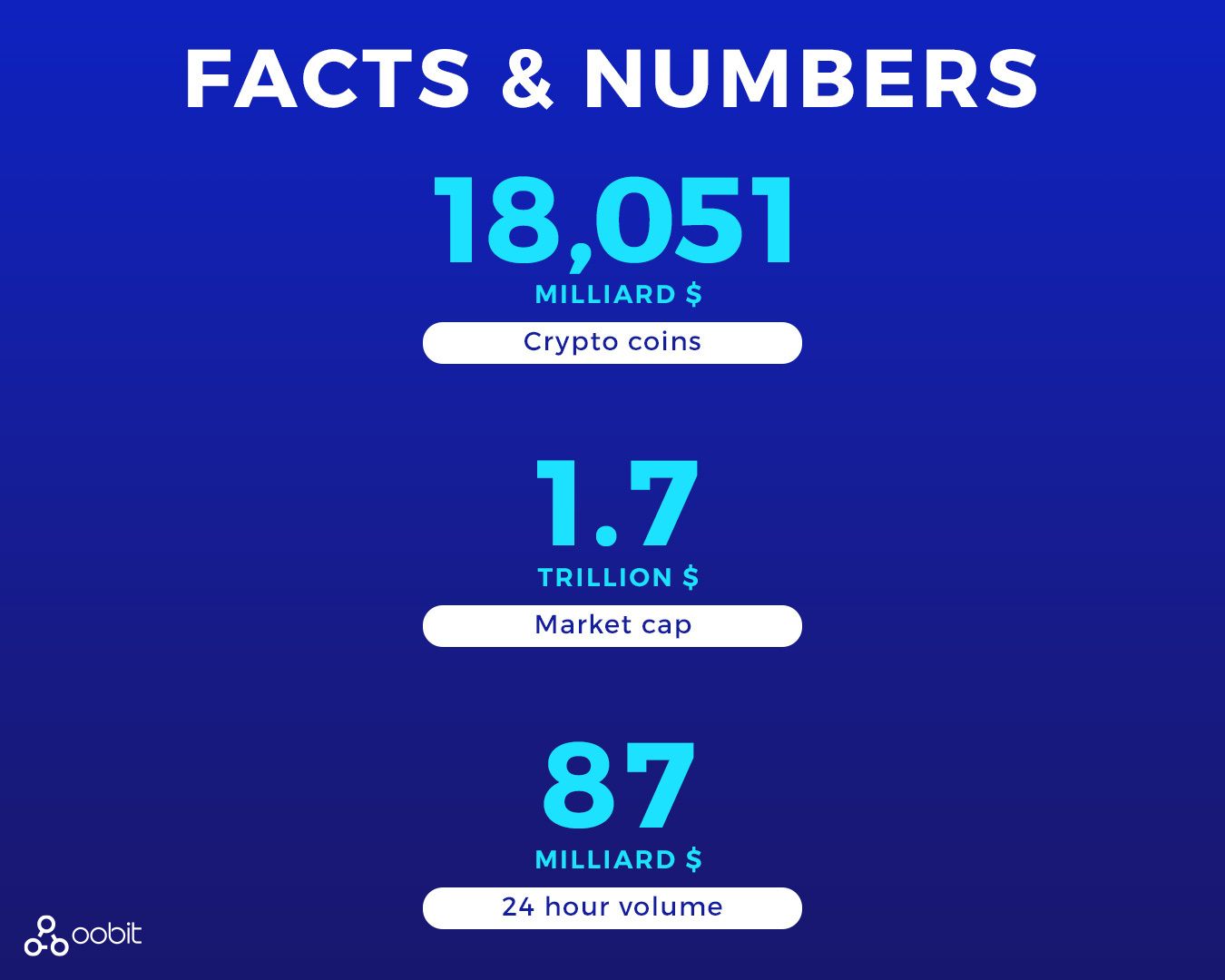 Regulation Around The Corner
While cryptocurrencies were designed to be outside of regulatory control, the industry is not opposed to regulatory structures. These kinds of structures are only going to propel cryptocurrencies further into the mainstream financial circuit and heighten their adoption.
Countries around the world are currently outlining and implementing legal frameworks to better manage the use of cryptocurrencies, it is only a matter of time before these are implemented.
As we draw this forecast for crypto adoption to a close, one can clearly see that between adoption rates, traditional institutions exploring CBDCs and regulatory frameworks being created, the future of crypto indeed looks bright.


---
Oobit Technologies Pte, 50 Raffles Place #37-00 Singapore Land Tower, Singapore (048623). is a company registered in Singapore (no:201716443G), that has been approved as Appointed Representative of Oobit Technologies OÜ, Harju maakond, Tallinn, Lasnamäe linnaosa, Väike-Paala tn 2, 11415, (no: 14852617 ). Which is authorized and regulated by the FIU (no: FVR001421 and FRK001304).