While we're still making our way through the crypto winter of 2022, low crypto prices had little impact on the popularity of crypto payments. With their reliable, fast and secure nature, digital currency payments saw considerable growth over the year, with 57% of crypto holders reporting that they had made at least one purchase this year.
It's worth noting that it wasn't just the crypto market that took a knock this year. Macro factors such as geopolitical unrest and inflation took their toll on companies across the board, with some cryptocurrencies outperforming big tech companies like Facebook and Netflix.
Despite this, developments are still being made within the sector with Brazil's Congress passing a law to legalize the use of cryptocurrencies and brands like Porche and BMW exploring the Web3 and NFT space.
Below we review the developments within the crypto payment sector over the last year, looking at big shifts and big names jumping onto the crypto bandwagon.

Crypto Payment Stats 2022
Data indicates that consumers have become a lot more comfortable with making purchases using digital currencies. One crypto payment processor reports that crypto payments increased from a monthly average of 58,000 in 2021 to 67,000 in 2022.
According to data from BitPay, Bitcoin was the preferred cryptocurrency when it came to making crypto transactions this year, however, Litecoin gained significant traction too. The data from Blockdata shows that consumers began to favor more stable cryptocurrencies when making online transactions, opting for options like Litecoin. Litecoin transactions went up 8% from 14% in March 2022 to 22% in July 2022.
The increased demand for crypto payment opportunities pushed big brands such as Gucci and EuroSports, the luxury car retailer, to start accepting crypto. They also drove the likes of Visa, Mastercard, WorldPay, and many more to explore how they could integrate cryptocurrencies into their business models.
According to Async Labs, over 18,000 businesses already accept cryptocurrency payments.
Crypto Adoption by Country
This year saw more growth across the number of users in various countries owning or using cryptocurrencies with over 320 million crypto users around the world. The market leader, Nigeria, reports that 45% of its population has adopted crypto, while Thailand follows closely with 44%.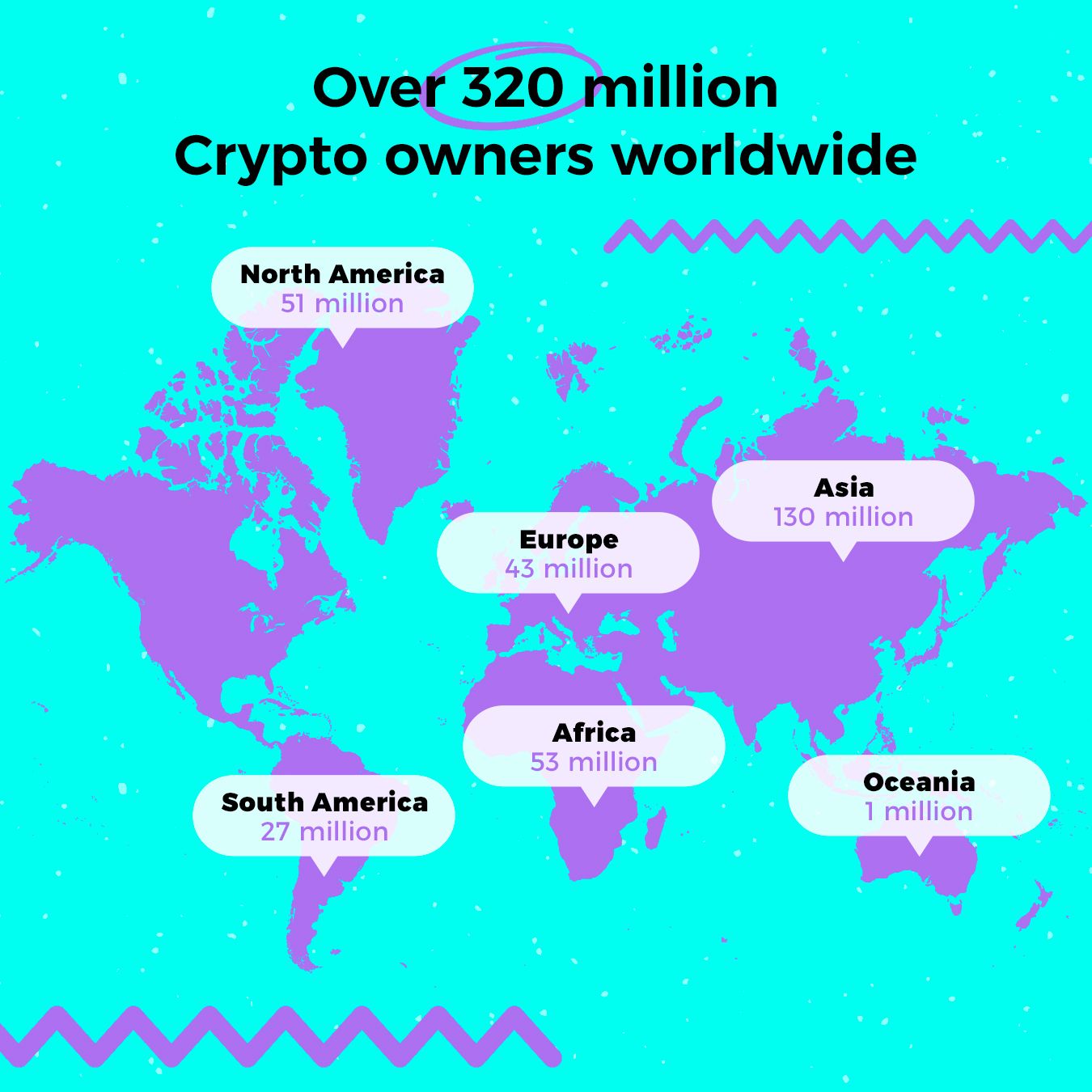 Other top countries include Argentina, Turkey, United Arab Emirates, the Philippines, Vietnam, and India. See all the countries' growth and statistics here.
Lightning Network
In early November this year, a Swiss brand of McDonald's started accepting Bitcoin, giving crypto enthusiasts in the area an opportunity to put the Lightning Network to the test.
The Lightning Network is a layer 2 solution that sits on top of the Bitcoin network and allows for instant, cheap payments to be conducted off-chain, eliminating the need to wait for a block to confirm transactions. The network saw an increase of 80% in the number of channels created this year.
There are now 60 merchants in the small town of Lugano that accept Bitcoin payments.
Increase in E-commerce Sales And Digital Payments
According to Statistica, e-commerce sales increased by 20% this year, contributing to the total $5.7 trillion worth of retail sales conducted online. This coupled with the fact that the utilization of digital payments increased to 89% in 2022 means that businesses are looking for new avenues in which consumers can pay online, namely cryptocurrencies. With a wide range of options available on the market, incorporating digital currencies into payment options has been a growing trend this year.
From lower fees to heightened security to their cross-border functionalities, crypto presents a viable (and often preferred) payment option for consumers who understand how they work.
Africa: Send and Spend Bitcoin Over Text Message
A new service called Machankura was launched in Africa allowing users to send and spend Bitcoin via text message. The service was created as a result of its developer Kgothatso Ngako realizing that most people did not have access to a reliable internet connection. This allows Bitcoin to be included in the 94% of financial transactions in Africa that are made through text messages.
Rise in Stablecoins
There has been a growing increase in the usage of stablecoins, with over $26 billion worth of Tether (USDT) traded in the last 24 hours alone. While bypassing volatility concerns, stablecoins facilitate the instant transfer of value, without having to go through various foreign exchange platforms.
Stablecoins pose as an excellent resource for both consumers and businesses as the risks involved in terms of sudden price changes are minimal, and the global nature in which they defy borders is ideal for companies operating in different regions.
CBDCs
On top of this, albeit a separate topic, countries are exploring the use of CBDCs (Central Bank Digital Currencies). These currencies operate as digital versions of the local currencies, providing a digital alternative that does not need to conform to banking hours. Nigeria and The Bahamas so far have implemented these, with several countries close behind.
The governor of the Central Bank of Indonesia also recently announced plans to launch a CDBC in the country, citing that "collaboration and synergy on a national and international level are critical to the development of Digital Rupiah."
Increased Institutional Interest
According to a study conducted by INNOPAY and The Paypers, 88% of respondents across banks, payment institutions, merchants, vendors, and AP/AR departments said that they expect cryptocurrency payments to have a significant impact on the payment landscape.
The study also revealed that most of these institutions were in the exploratory phase, with 53% actively researching and educating themselves on crypto opportunities while 26% were going to market and exploring how their business models could incorporate them.
The Launch of the Oobit App
This year marked the launch of our Oobit app, a secure and seamless way to manage your cryptocurrencies. Through the off-chain infrastructure, users can instantly send cryptocurrencies to one another or anyone anywhere in the world.
The free payment solution allows users to quickly split the bill among friends or pay merchants, using just a phone number. All transactions are settled through the app, from where users can get an overview of their spending history. With the option to onboard or buy a wide range of cryptocurrencies, the exciting service is making considerable moves in the crypto payments landscape.
Crypto Payments on the Up
Between countries legalizing cryptocurrencies and the vast development within the crypto tech space, cryptocurrencies are destined to reinvent the financial landscape. The increase in the adoption of cryptocurrencies in the payments sector further enhances this. With regulatory frameworks and tools to educate the masses on the benefits of digital currencies, the future of payments could be nearer than many might have imagined.

---