Cryptocurrencies have come a long way since their initial "store of value" status. Today, these digital assets are being favored as payment methods by both consumers and businesses alike. With vast benefits over their fiat counterparts, it's no wonder that the average monthly crypto transactions increased from 58,000 in 2021 to 67,000 in 2022.
Despite the markets being down, 2022 also unveiled that Litecoin became a prominent payment option as users looked for less volatile cryptocurrencies to transact with. Below we investigate the growth potential of Litecoin in 2023 as crypto payments continue on their adoption path.
A Brief Look At Litecoin
The Litecoin cryptocurrency is a fork of the Bitcoin blockchain that was positioned as "silver to Bitcoin's gold." Launched in 2011, the cryptocurrency gained a reputation for being arguably one of Bitcoin's greatest forks and saw a significant rise in popularity in the early years of crypto acceptance.
Before 2022, Bitcoin was completely unmatched in being the preferred payment method for crypto users, however, in 2022, Litecoin closed the gap significantly.
Thousands of merchants across the globe accept Litecoin as a payment option, with a crypto payment processor confirming that last year Litecoin transactions made up 27% of all crypto transactions processed. Bitcoin remains the most popular with 41% of all crypto transactions processed, however, Litecoin presents strong competition.
As Litecoin's use cases increased, so too did the price. During the second half of the 2022 period, the cryptocurrency witnessed gains of over 40%, outperforming Bitcoin by 130%. Considering the current bear market, these are impressive trading patterns.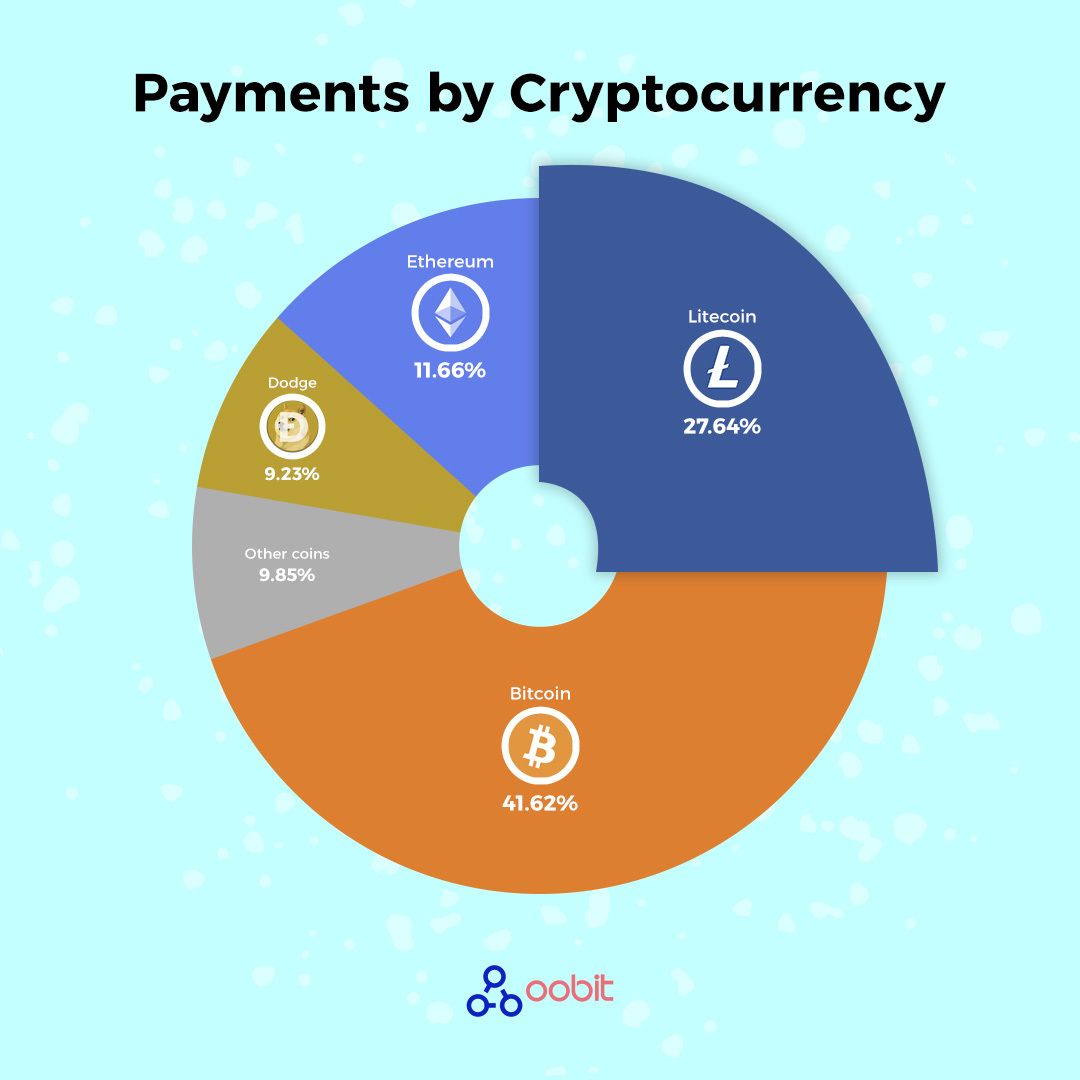 Where Can You Spend Litecoin?
Many merchants and service providers accept Litecoin as well as other cryptocurrencies as payment, with the registry growing by the day. According to a crypto payment processor, the most significant use of Litecoin was for payments conducted in the prepaid card and gift card industry.
Other significant industry usage included consumer electronics, VPN/hosting services, computer games, and precious metals.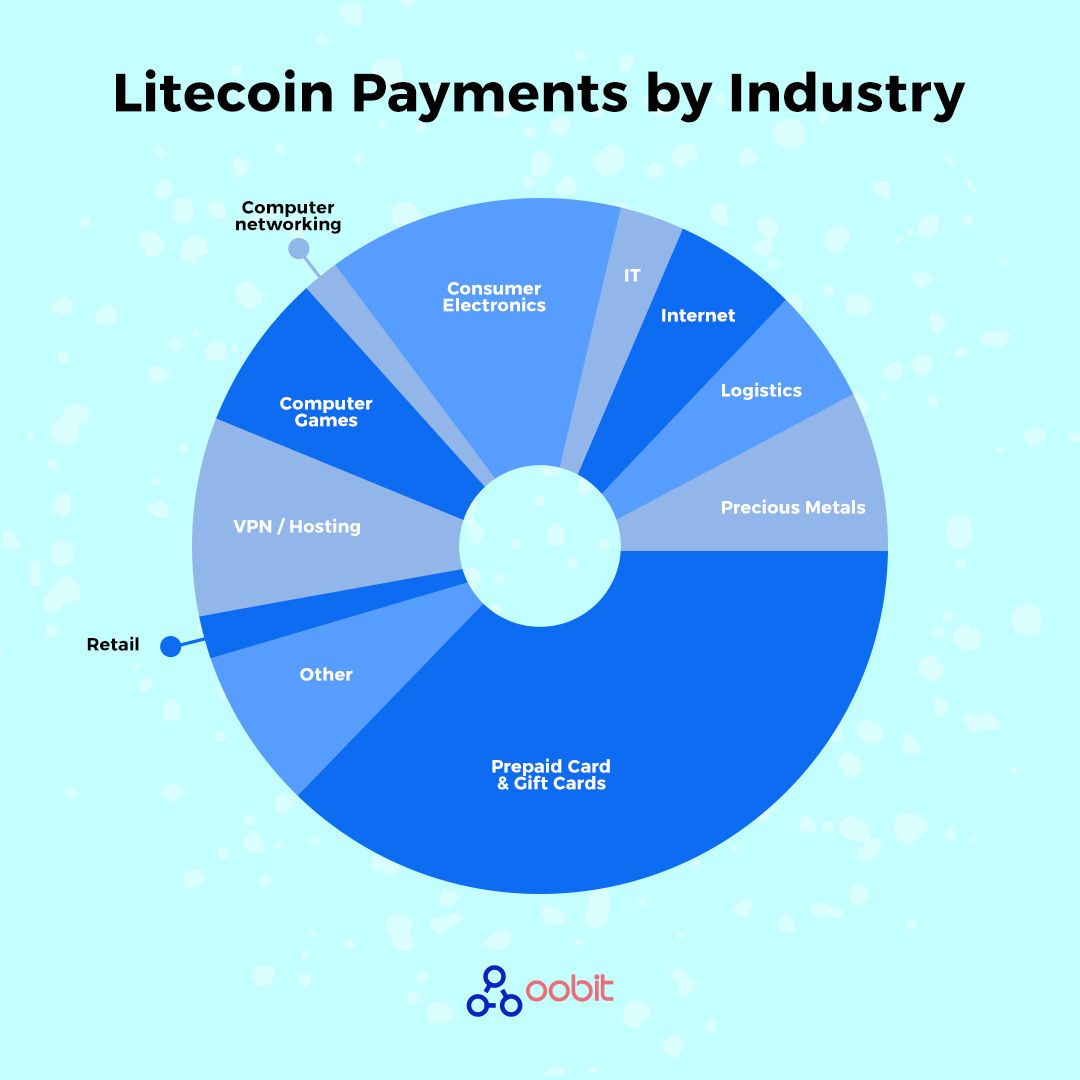 What Makes Litecoin Favorable?
The Litecoin network was designed to complement the Bitcoin network, never to replace it. In doing so, the platform aimed to create a faster payment option that could work alongside Bitcoin (with Bitcoin being used as a store of value).
When forking the Bitcoin blockchain, Litecoin made the block times for verifying transactions four times faster than Bitcoin, with transactions able to be processed in 2.5 minutes instead of 10. The network also increased the maximum supply to 84 million and changed its mining algorithm, allowing the mining community to grow organically outside of Bitcoin.
Below are several reasons why Litecoin has become a favored crypto payment option, and why this trend is likely to continue growing well into 2023 (and beyond).
Speed: Litecoin block creation takes 2.5 minutes, a quarter of the time that Bitcoin takes.
Cost: Internal data shows that the average transaction fee on a Litecoin transaction is 30x less than that of Bitcoin transactions.
Trust: The network has been running non-stop for the past eleven years with 100% continuous uptime.
Convenience: Litecoin is supported by all the well-known multi-chain wallets, including Oobit.
Strong Community: Despite not having one of the highest market caps, few networks have as much community support as Litecoin and that is down to its reliability and use case potential.
Value vs Progress
With the crypto payments market already well established, insiders are predicting that this sector is projected to grow exponentially over the next decade. 2022 proved that the Litecoin network has grown in a sense of utility and has provided a great foundation for Litecoin and others alike to grow in 2023, particularly in the payments sector.

________________________________________________________
Oobit Technologies Pte, 50 Raffles Place #37-00 Singapore Land Tower, Singapore (048623). is a company registered in Singapore (no:201716443G), that has been approved as Appointed Representative of Oobit Technologies OÜ, Harju maakond, Tallinn, Lasnamäe linnaosa, Väike-Paala tn 2, 11415, (no: 14852617 ). Which is authorized and regulated by the FIU (no: FVR001421 and FRK001304).