When it comes to monitoring the market for the latest trading opportunities, nothing comes more in handy than the ability to see price conveniently on a chart. This is true even for Bitcoin and cryptocurrencies – Binance, the world's biggest cryptocurrency exchange, even acquired CoinMarketCap recently for an undisclosed sum estimated to be as high as $400 million.
What Are Price Trackers?
Price trackers are services, platforms and tools that help you make a more informed decision when trading by sharing up-to-date as well as historical prices of Bitcoin and cryptocurrencies.
There are various types of price trackers available, on all platforms be it Desktop, Mobile or even on specialized trading terminals.
The kind of price tracker you may want to use depends on your own trading processes, behaviour and preferences. Here, we list out the top 10 price trackers we believe every trader should try, as well as their pros, cons and differences.
Desktop Price Trackers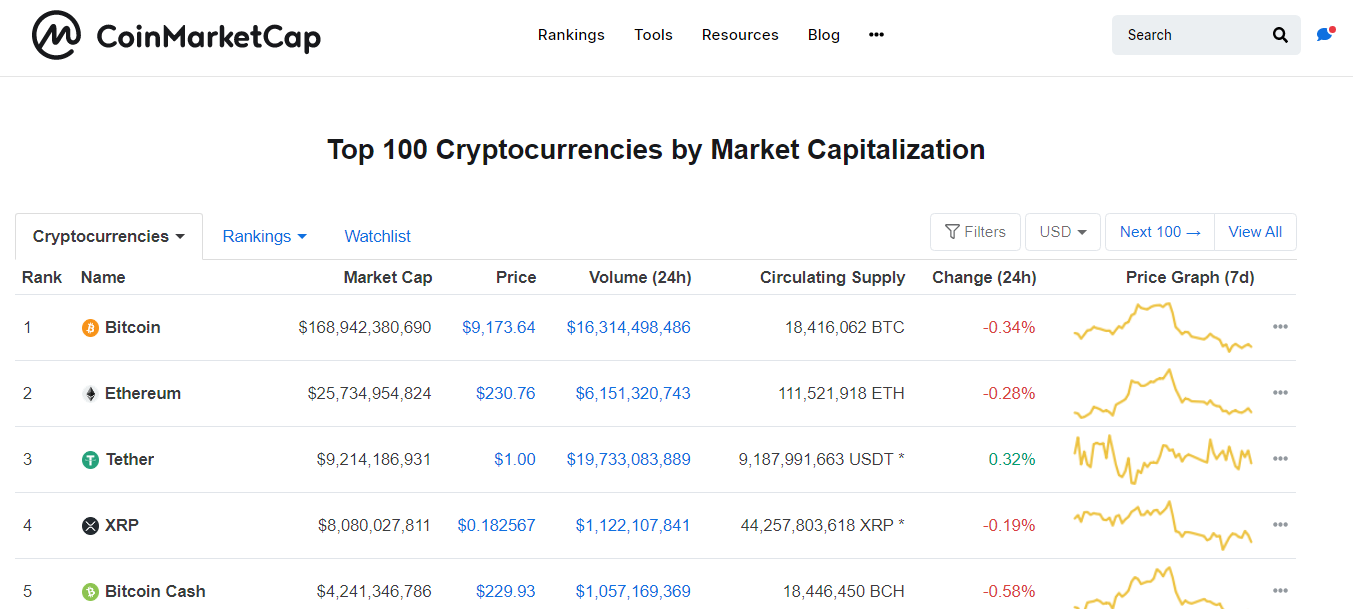 CoinMarketCap, or CMC for short, is one of the veteran companies in cryptocurrency having operated as a cryptocurrency data aggregator since 2013. It is the most visited website in the entire cryptocurrency space, outperforming even exchanges with over twice the website traffic of its current parent company, Binance.
One of the Best Bitcoin Price Charts providers is CoinMarketCap. Coinmarketcap offers a simple yet easy to use interface, where users can sort coins by various metrics and see data on charts, individual exchanges, and over 2,000 listed cryptocurrencies. It also serves advanced users with an API, watchlisting tools, and various rankings and indices it uses to track the general performance of the market.
Their homepage ranks coins by market capitalization, and clicking into each specific coin allows for the user to view more advanced and in-depth data about the cryptocurrency.
CoinMarketCap also has iOS and Android Apps, which offers price alerts and portfolio tracking.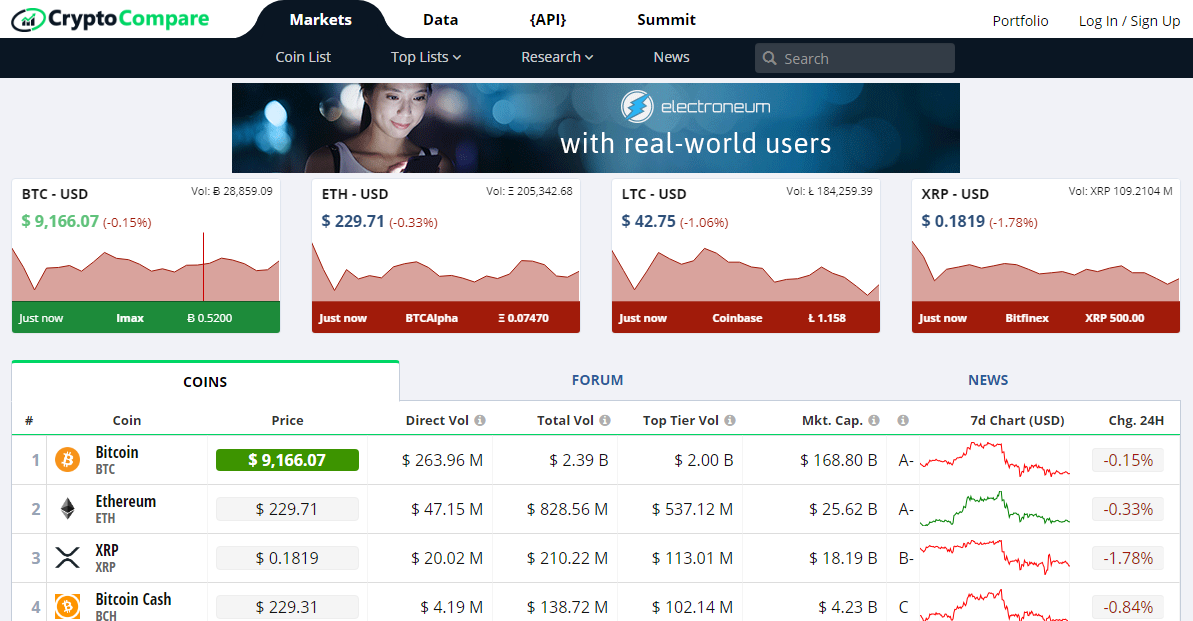 Another Best Bitcoin Price Charts provider is CryptoCompare, a well-known alternative to CoinMarketCap. Founded in early 2014, the site has various strong partnerships with reputable companies, delivering cryptocurrency and Bitcoin data to industry-leading institutions such as VanEck (through MVIS) and Thomson Reuters (through Refinitiv).
They track over 5,000 coins including some that CoinMarketCap does not list. Their API is considered one of the most advanced in the industry, as evidenced by its partnerships, making it a good choice for advanced traders and companies who wish to carry out complex operations on its data or acquire high-quality real-time digital asset data.
Additionally, they also operate special sections which review exchanges, wallets, miners (ASICs), and upcoming ICO projects.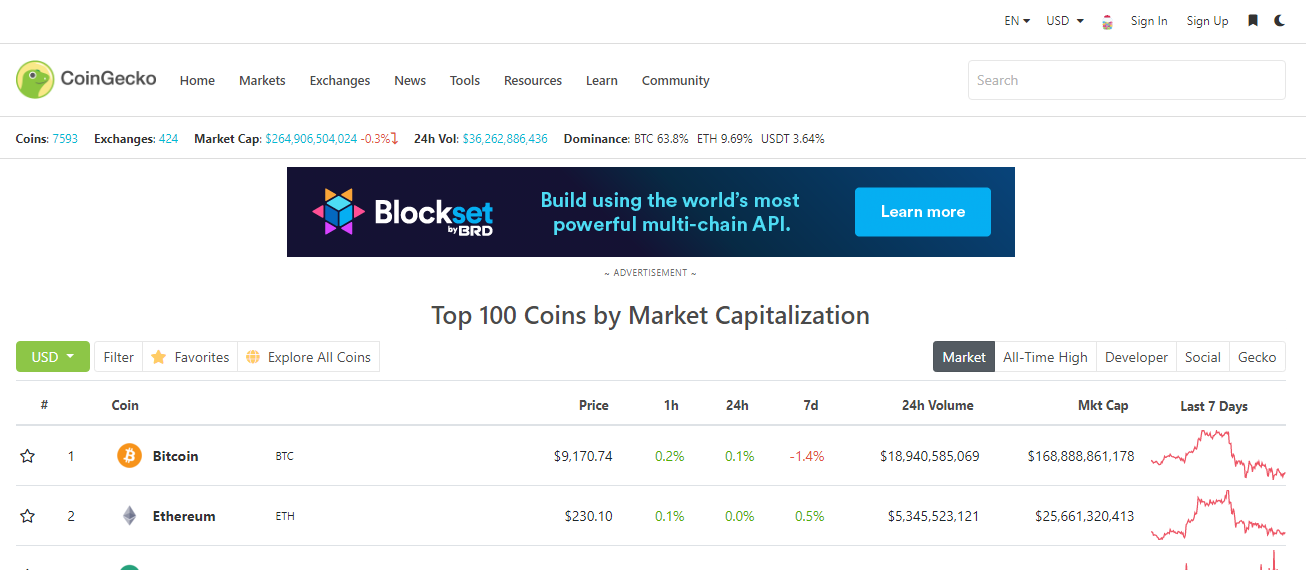 Coingecko is an early-bird in the crypto data space founded in 2014, featuring more than 7500 tokens from 400+ cryptocurrency exchanges. Founders Bobby Ong and TM Lee believed that community metrics mattered as much as price data, and track statistics such as Github commits and code activity, community data from Twitter, Facebook and Reddit.
They are currently the largest data aggregator by website traffic and alexa rank after CoinMarketCap, and the largest independent price tracker since CoinMarketCap was acquired by Binance.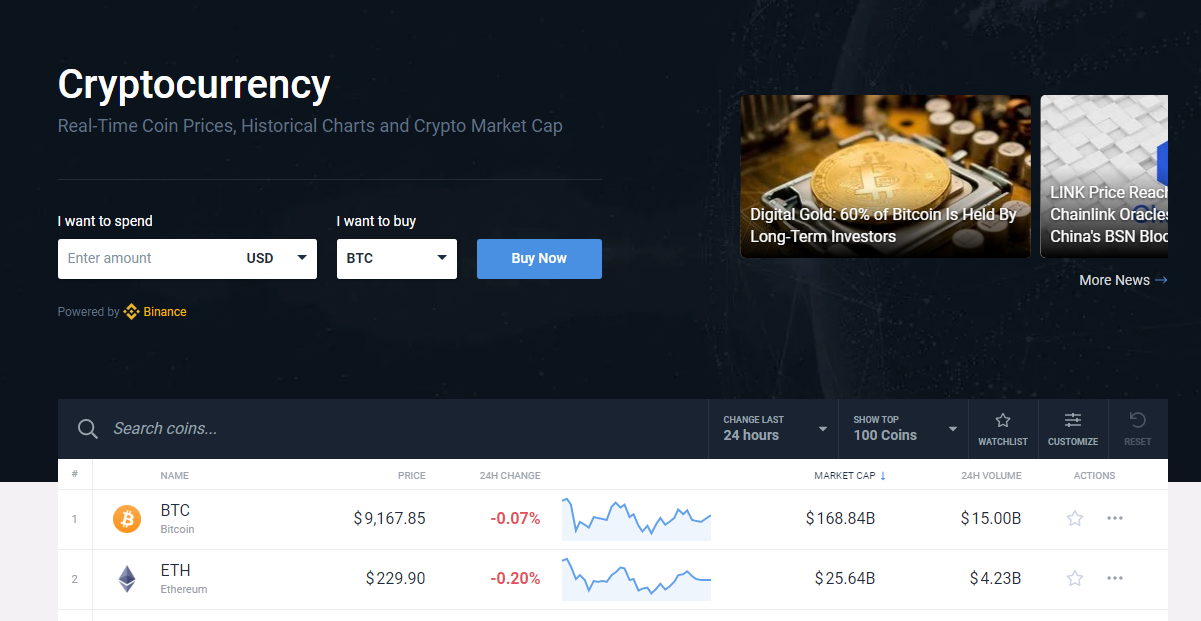 Coincodex is often presented as a consumer-focused alternative to Coinmarketcap, with guides meant for newcomers and focusing on allowing users to easily track and update their portfolio. They also track ICOs and dtoken sales, and keeps an updated list of various cryptocurrency-related categories such as Casinos, IEO platforms, wallets, Dapps, Stablecoins and more.

Together with Coincodex, LiveCoinWatch appeared in late 2017 as a primary competitor to Coinmarketcap during the height of the Bitcoin craze. LiveCoinWatch became a popular alternative to CoinMarketCap as a result of a controversy where the latter was accused of bias through the removal of South Korean crypto exchange data.
They have a very similar interface to CoinMarketCap, and is based in the US.
Mobile Price Trackers
Blockfolio is the most popular mobile-based crypto portfolio tracking app, and the only one without a website version. Founded in 2014, it has a simple interface where users can add coins they want to track as well as trades they've made to keep track of their portfolio. The app also recently updated to provide updates directly from the team behind a coin, with a service called "Blockfolio Signals" where the developers of a coin can directly notify and communicate with users on the app.
Although Blockfolio implemented this feature fairly late in comparison to its competitor, Delta, it can import trades from various exchanges via their respective APIs since version 2.2 released in 2019.
Delta is the primary competitor to Blockfolio, released much later in 2017 after a long time with no alternatives to Blockfolio. Less than a year later, they had over 1 million users, owing to consistent updates and feature releases making them competitive against Blockfolio.
On Delta, functions such as the ability to export transactions logged as a CSV file and a desktop equivalent which is fully in sync with the mobile version make it a more attractive solution for traders who are active on both mobile and desktop.
They offer API connections to exchanges which allows the pulling of trades and updating of portfolio directly since 2018.
Price Charts – Worthy Mentions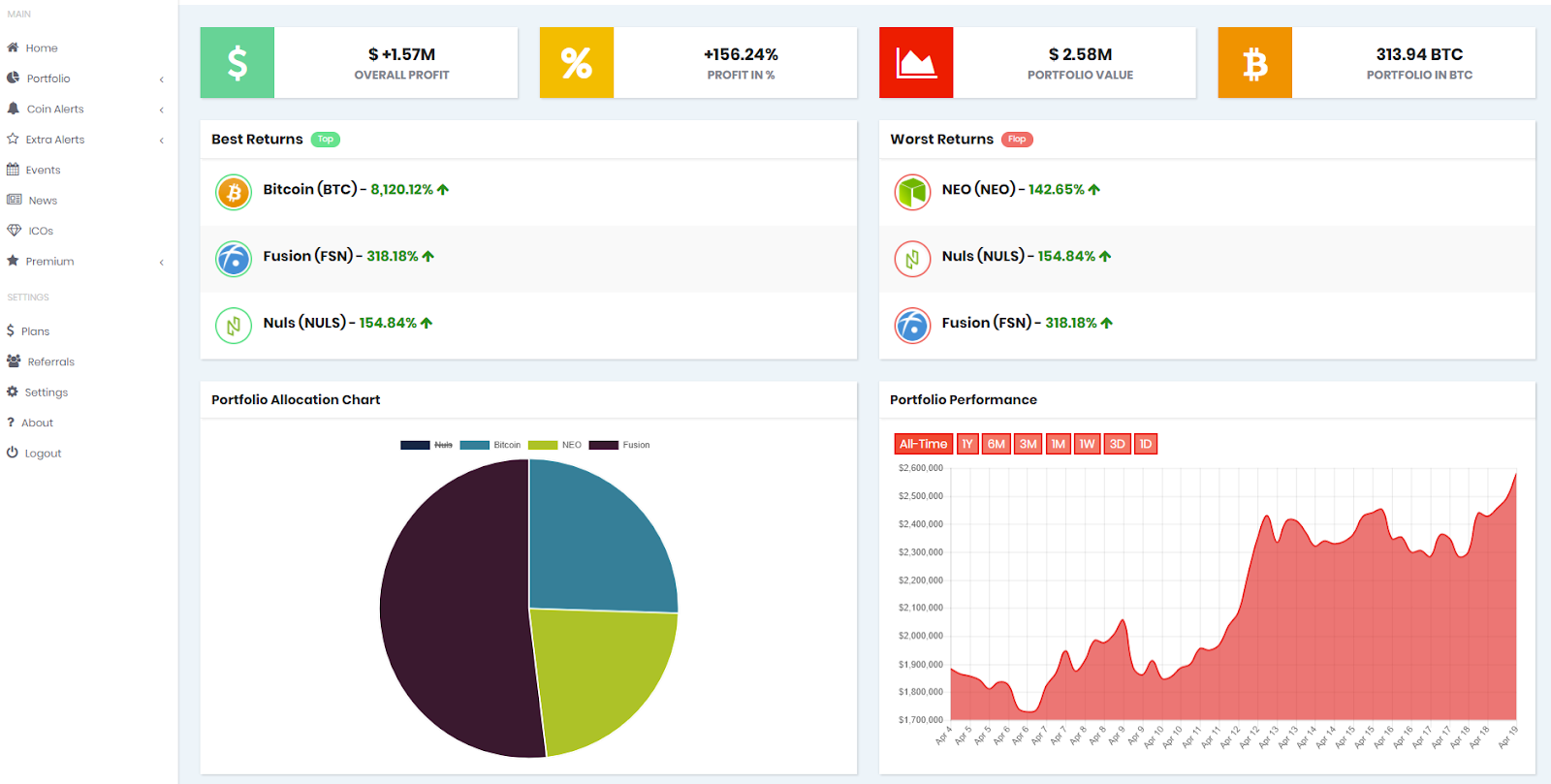 Cointrendz is unique in the space as a one-of-its-kind market alert application that works through Telegram and Email. Users can register to use its cryptocurrency bot and set up a crypto dashboard that allows customized price alerts for Bitcoin and many other cryptocurrencies, which are channeled to the user's connected Telegram account through the Cointrendz Bot.
The site also tracks Twitter trends, suggests trades based on technical indicators as set by the user, and for listings of new cryptocurrencies on exchanges.
They offer a free and premium plan, and are partnered with or support many exchanges and sites such as Bittrex, Kucoin, Binance, Coingecko, Bitfinex, Kraken, Upbit, Okex and more.
You can access the Cointrendz bot here on telegram!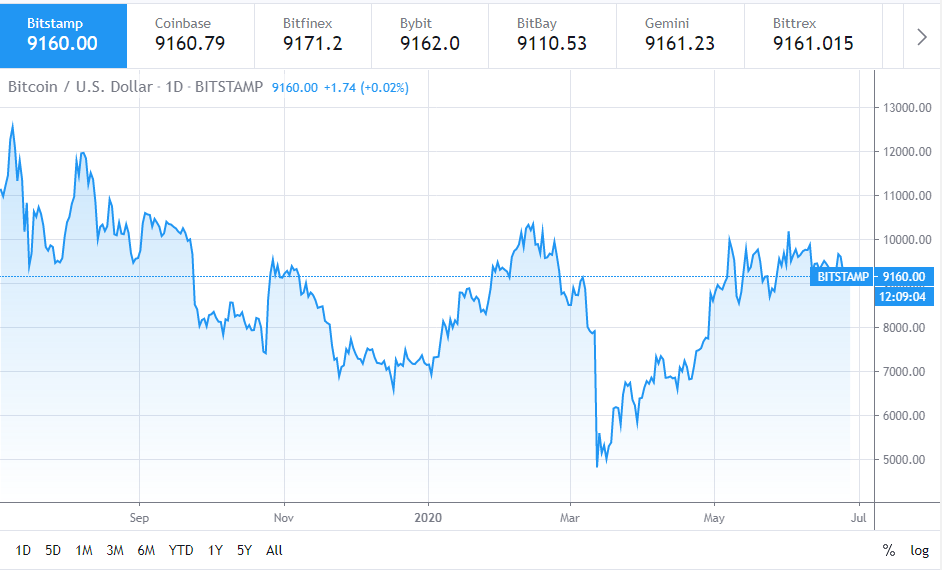 Tradingview is a charting tool and social-networking software for investment traders, and one of the most popular amongst retail investors who use its charting capabilities to analyse and make trading decisions.
Beyond just being a prominent name in finance, it is also highly utilized for Bitcoin and cryptocurrencies, offering pricing data with tools that enable traders to perform technical analysis at a high level. It is commonly integrated with various websites, platforms and trading services, making it one of the most powerful tools available to a serious Bitcoin trader.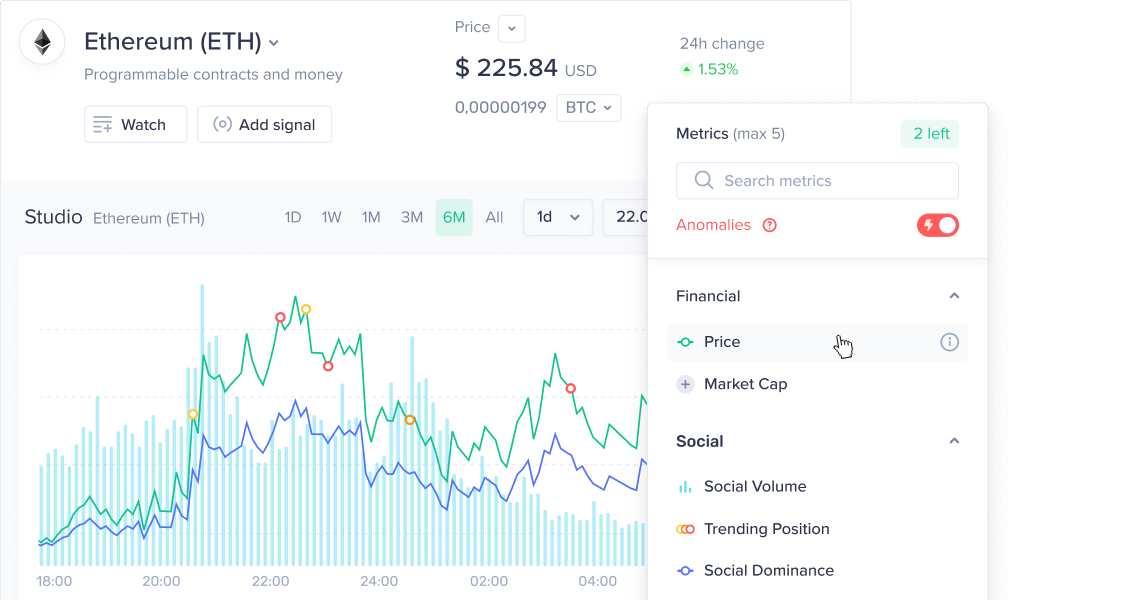 Santiment is the virtual cryptocurrency equivalent of the ubiquitous Bloomberg Terminal, acting as a cryptocurrency data feed for investors. The Santiment team is made up of entrepreneurs, developers, researchers, engineers, scientists and PhDs who are all dedicated to eliminating information asymmetry in the crypto space.
They provide behaviour analytics and monitoring capabilities for various information points, going beyond simple metrics to make advanced conclusions and data predictions that help the user make a more informed decision in their trading.
Their platform automatically sources on-chain, social and development information for over 900+ coins, and their charting tools provide advanced visualizations of data that no other platform is currently doing. Unique and complex metrics such as MVRV Long/Short divergence created by their researchers have proven successful in the past in predicting major trend shifts in Bitcoin.
Price alerts as set up on Santiment can be for almost anything, even something obscure such as a single whale's activity or a network anomaly, and are low-latency – meaning that the investor can structure their investment decision with minimal time delay from the alert.
They also support monitoring of specific coins through its watchlist mechanism, providing weekly analytics, and Social Trend indicators.
Santiment is the only platform on this list with their own token, having successfully raised over 45,000 ETH from their ICO in July 2017.
_______________________________________________________
Oobit Technologies Pte, 50 Raffles Place #37-00 Singapore Land Tower, Singapore (048623). is a company registered in Singapore (no:201716443G), that has been approved as Appointed Representative of Oobit Technologies OÜ, Harju maakond, Tallinn, Lasnamäe linnaosa, Väike-Paala tn 2, 11415, (no: 14852617 ). Which is authorized and regulated by the FIU (no: FVR001421 and FRK001304).