Cryptocurrencies have been a breakthrough in recent years as they are created to serve as a medium of exchange between two people without needing a third party. At least, this is the primary purpose of cryptocurrencies' creation of the first digital asset, Bitcoin— to serve as a means of peer-to-peer transaction between anybody.
The idea of digital currency is revolutionizing our financial sector. There is almost nothing that you can do in a bank that you can't do in the crypto world. And this will continue as more development and application solutions are deployed for smooth usage and efficiency.
Cryptocurrencies vs Other Traditional Payment Gateways
The launch of cryptocurrencies has provided untimely solutions for you and me to transact efficiently, with ultimate security and a faster medium. And they have been playing this role effectively. On average, approximately $112 billion is traded in crypto per day. Other payment gateways like PayPal, Square, Helcim, Stripe, and others offer the same solution at a relatively slower rate with higher transaction fees.
Most payment gateways take one day to process payments, while PayPal takes up to 3–5 working days. This is caused by the number of intermediaries it will pass through before the payment is finally accepted. A typical example of a traditional transaction in which five parties are involved; the payment will pass through the payment gateway, the merchant, the acquirer (the receiving bank), the issuer (the paying bank), and the individual cardholder.
Between these third parties, the issuer, the acquirer, and the payment gateway take a small charge. Payment gateways like Stripe charge 2.9% plus 30 cents to settle this charge, Helcim charges 0.5% plus 25 cents, and PayPal charges 2.9% plus 30 cents.
In contrast, payments made in crypto allow you to move money between mediums without needing a third party or centralized body. Thus, eliminate additional fees paid to third parties leaving you to pay little or no fee to the crypto network. And also gives you access to fast and seamless transactions.
"Once we have scaling technology […] it actually becomes possible to really try to make crypto payments more mainstream again and in the future, with rollups, with all of the improvements to efficiency … the transaction costs could go down to US$0.05 or even be as low as 0.2 cents," said Ethereum co-founder, Vitalik Buterin.
How Payment With Cryptocurrencies Work
Once payment is made to you as a merchant, it is registered on a block where it is stored. Taking Bitcoin as an example, it uses a process called the proof of work mechanism to add new blocks to its network.
Proof work involves miners confirming transactions before adding them to the blockchain chain of blocks. Depending on the traffic on its network, the average transaction speed is around 15-60 minutes; the rate can be influenced by increasing the transaction fee. Transaction fees are given to miners as compensation for their time and energy.
Immediately after the payment is initiated, the transaction goes to a node. It is then passed along the network until it reaches the miner through the mining node.
Using the proof-of-work algorithm consumes a lot of computing power. The essence of the immediate fee paid to the miner helps confirm your transaction and add them to the long chain of immutable blocks. Thus, the process is called mining, and the chain of blocks is called the blockchain. The merchant will now have the Bitcoin payment confirmed to not be double spent.
But Wait, What About Crypto Market Volatility?
The crypto market is highly volatile and is characterized by several cycles of up and down movements. Bitcoin or any other crypto today might be worth a higher or lower value tomorrow. But, there is a solution you can put in place for that.
One of the several ways is converting your crypto payment to fiat currency after each transaction. Most crypto payment gateways allow access to this. Though, it costs a fee of 1% + $0.15 or more. This will also enable you to withdraw your earnings to your bank account and use it for any purpose.
Another is converting your digital assets to stablecoins. Stablecoins are also cryptocurrencies but pegged to a fiat currency, e.g. Tether is a stablecoin pegged to the USD. Stablecoins are characterized by their low volatility and steady rate; therefore, merchants can choose to hold them.
Merchants also choose to hold their crypto earnings for an extended period or convert them to other cryptos.
Leading Merchants That Are Already Benefiting From Crypto Payment Gateways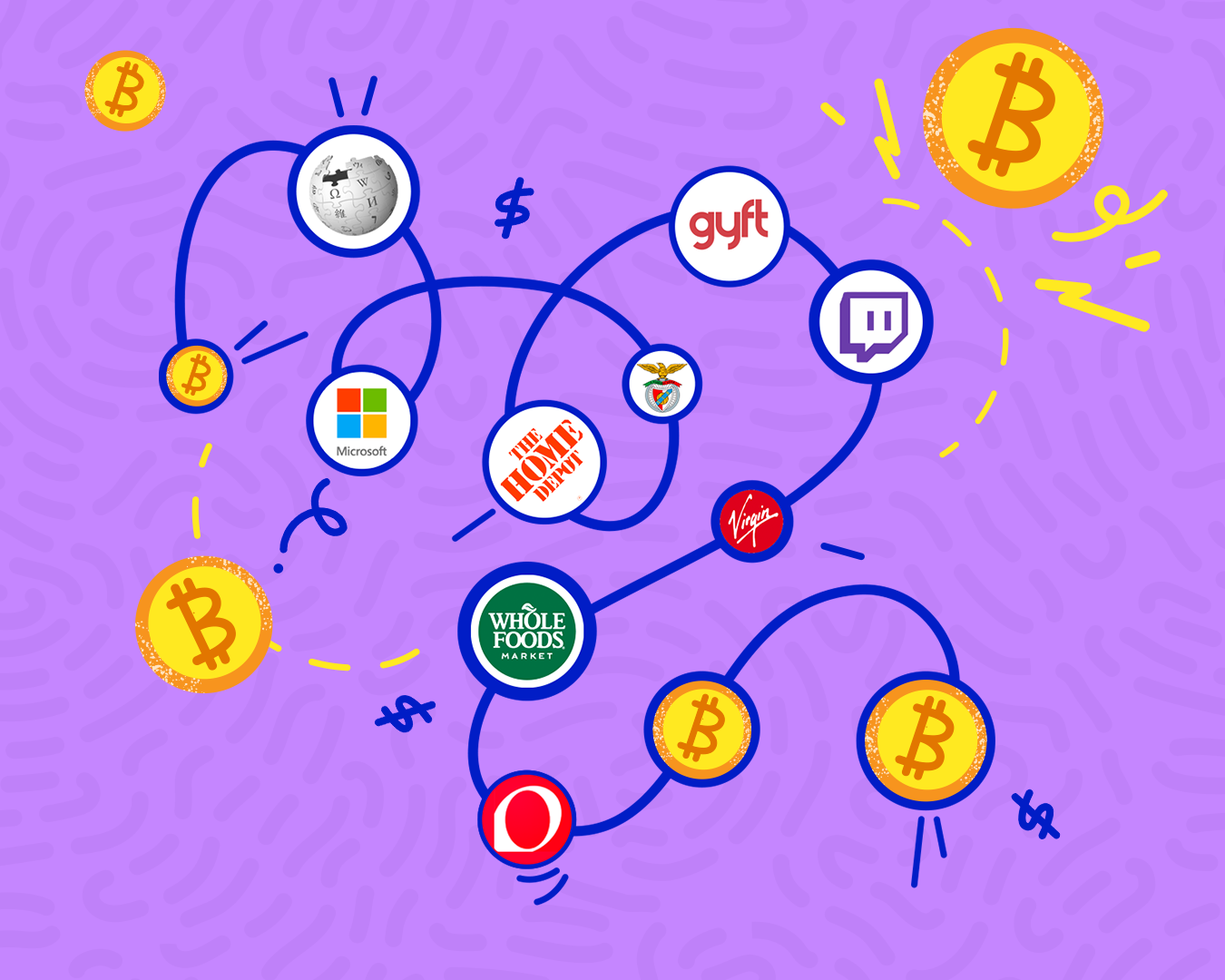 Many firms have adopted accepting crypto payments for their products, here are some of them:
1. Tesla
Tesla is a multinational automotive company that allows users to purchase its items using Dogecoin. Tesla accepts Dogecoin, and the company lists all its eligible products with a Dogecoin price. Tesla was the first significant automaker to accept cryptocurrency payments. Additionally, Tesla now has access to Bitcoin liquidity worth $1.5 billion.
Tesla has invested a sizable portion of its cash in the investment by entering the cryptocurrency space through payment. Elon Musk, the CEO of Tesla, recently disclosed that the company was exploring ways to extend the payment method to other nations. This development has helped the company grow economically and attracted a lot of potential customers to the area.
2 . Travala
Travala is a  hotel and accommodation booking platform. It allows its users to book flights, tours, and even hotels using leading cryptocurrencies like Bitcoin, Ethereum, Polkadot, and many more, in addition to the standard credit and debit card options.
Users can directly spend cryptocurrency on that flight, hotel stay, etc., thanks to Travala's acceptance of cryptocurrency payments. And the power to cut out the intermediary is the key feature of crypto payment. Cryptocurrency payments introduced decentralization into the centralized, traditional payment system.
Another benefit of using a cryptocurrency payment system over a conventional one is that conventional OTAs find it more challenging to accept. They have a lot of rules and compliance requirements that they would have to follow in their organization in order to accept cryptocurrency. Travala has solved all these problems with its crypto acceptance feature.
3. Microsoft
Microsoft is a software company that allows users to make payments for games, apps, and other digital products and services through cryptocurrency. In a Bloomberg interview, Bill Gates declared that "Bitcoin is better than cash," endorsing the digital currency.
Microsoft now accepts cryptocurrency payments at its online storefronts for Windows and Xbox. It can be used to purchase Microsoft software, add apps and services to Windows, androids, or purchase content like games and videos for Xbox gaming consoles.
According to BitPay co-founder and executive chairman Tony Gallippi, Microsoft is pursuing this because it will make the processing of foreign payments more convenient. They are a worldwide business, he said.
"People use their operating systems and products in many regions of the world where payment cards are not widely accepted. Many people find it challenging actually to be able to deposit money into their Microsoft accounts."
4. Overstock
Overstock is a tech-driven online retailer that helps users to purchase a broad range of products using crypto payment and other payment solutions. It is one of the earliest crypto adopters and this is the fifth year of the big e-commerce platform accepting crypto payments.
Cryptocurrencies have significantly transitioned from the financial world to the mainstream, and Overstock is pushing them even further into more everyday purposes. Currently, Overstock is at the top of the shopping and cryptocurrency industries. After accepting cryptocurrencies as a payment method, Overstock exploited it as a unique tool for developing the worldwide digital currency and trading industry, not only as a marketing strategy.
Almost five years later, the business began generating $68,000 to $120,000 weekly in cryptocurrency revenues. Alaska, Delaware, Oregon, Wyoming, and Hawaii make up Overstock's top five states in terms of overall income, as measured by the percentage of each state's total sales from cryptocurrency purchases.
Currently, Overstock employs roughly 65 blockchain developers and programmers at its new headquarters outside of Salt Lake City in order to manage and oversee its investments. Also, to be able to sell cryptocurrencies, Overstock established a subsidiary in 2014 called Medici Ventures.
Conclusion
Integrating crypto payment options into your business is the next thing you should consider. It provides a fast, transparent, seamless payment method. Also, to stand out from your competitors and to boost conversion rates accepting crypto as payment should be part of your plans as a business owner. And then after adopting crypto payments, the next is to make a good payment gateway available for your customers.  Oobit is the best for this.
Oobit's payment model enables you to connect with over 30 million potential customers worldwide. It also has over 40 different cryptocurrencies tradeable on its platform and gives your customers access to buy them directly using credit cards or bank transfers.  Oobit allows you to accept and manage crypto payments to suit your business purposes.

---
Oobit Technologies Pte, 50 Raffles Place #37-00 Singapore Land Tower, Singapore (048623). is a company registered in Singapore (no:201716443G), that has been approved as Appointed Representative of Oobit Technologies OÜ, Harju maakond, Tallinn, Lasnamäe linnaosa, Väike-Paala tn 2, 11415, (no: 14852617 ). Which is authorized and regulated by the FIU (no: FVR001421 and FRK001304).