After a triumphant year in 2021 as far as wider crypto adoption goes, the markets took a turn for the worse in 2022, leaving many wondering if this has taken a toll on the number of people owning and using cryptocurrencies.
By more deeply exploring crypto ownership rates and crypto payments transaction volume, we seek to better understand whether the ongoing market slump is causing global adoption rates to grow or decline.
Year In Review
After favorable economic circumstances in 2021, 2022 could not sustain the growth and macroeconomic factors took its toll on the markets.
Calling a spade a spade, this year has been an eye-opener in terms of high-profile crypto platforms imploding. The crypto market lost just over $2 trillion in value, roughly 50% from highs the year before. In fact, all markets took a knock, with the bonds market down 20% and the U.S. stock market down 15%.
First, UST from the Terra platform unpegged and called catastrophic losses for investors. This led to companies like Celsius Network, Three Capital Arrows, and Voyager Digital (and many other leveraged hedge funds) also failing and losing customers' funds. While rattled, the next few months saw market confidence gradually increasing.
This, again, came crashing down in November when allegations against FTX and their sister trading company Alameda Trading came to light. In a matter of days, FTX's native token, FTT, went from trading at $26 to trading at $1. The once-celebrated exchange imploded and filed for bankruptcy in late November. Understandably, this too shook the markets and prices declined.
On the upside, these catastrophes have called for tighter regulation in space, something many believe will have a positive effect on the industry. Blockchain development also saw some significant strides, with Ethereum successfully implementing its PoS upgrade.
Crypto Ownership
In 2021, the ease by which consumers could buy cryptocurrencies increased dramatically thanks to traditional payment options incorporating cryptocurrencies into their legacy services (e.g. PayPal). In 2022, adoption rates continued to grow with the global estimate of cryptocurrencies users sitting around 320 million.

According to the Global Crypto Adoption Index, a metric designed by Chainalysis that reviews 154 countries' usage of cryptocurrencies, the countries this year with the highest adoption rates are Vietnam, the Philippines, Ukraine, India, and the US.
While data (below) suggests that the adoption rates recently reached a slight plateau after steady inclines since 2019, the adoption rates in 2022 still remain higher than those during the 2020 bull market.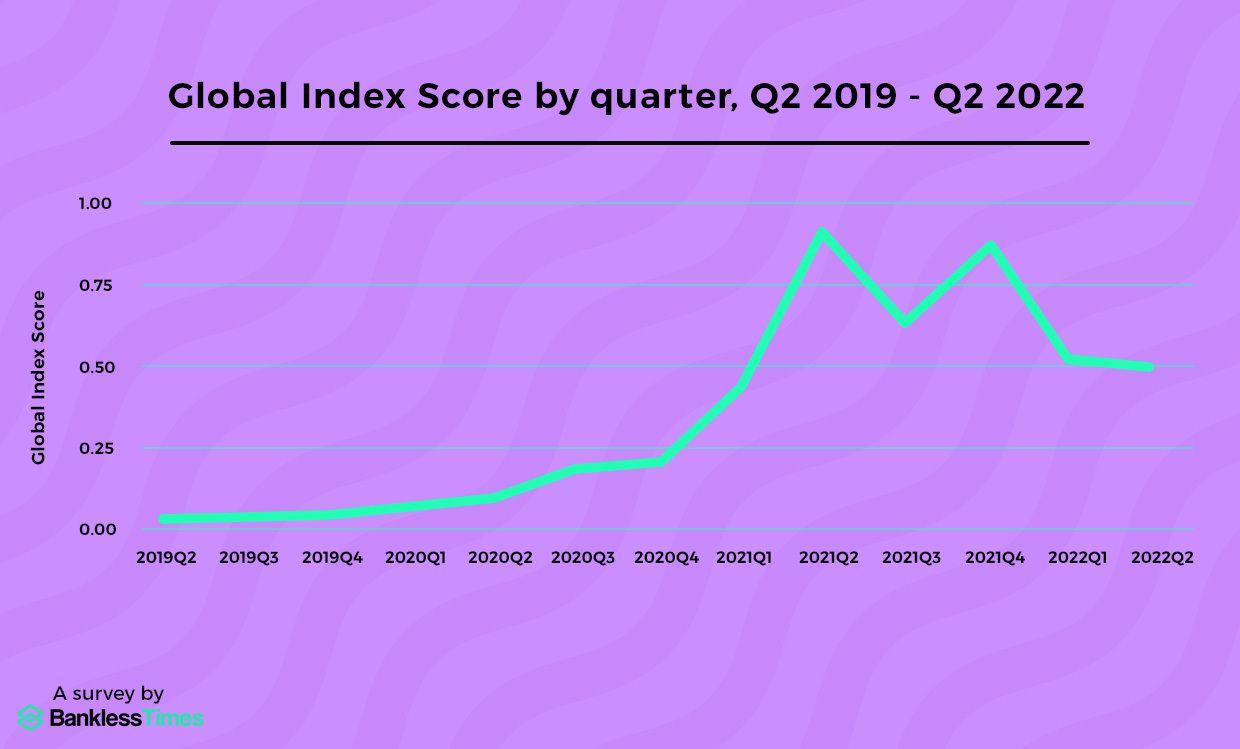 Based on data collected by Statista, the countries with the highest number of internet users owning cryptocurrencies are Nigeria (45%), Thailand (44%), Turkey (40%), Argentina (35%) and United Arab Emirates (34%), the Philippines (29%) and Vietnam (27%).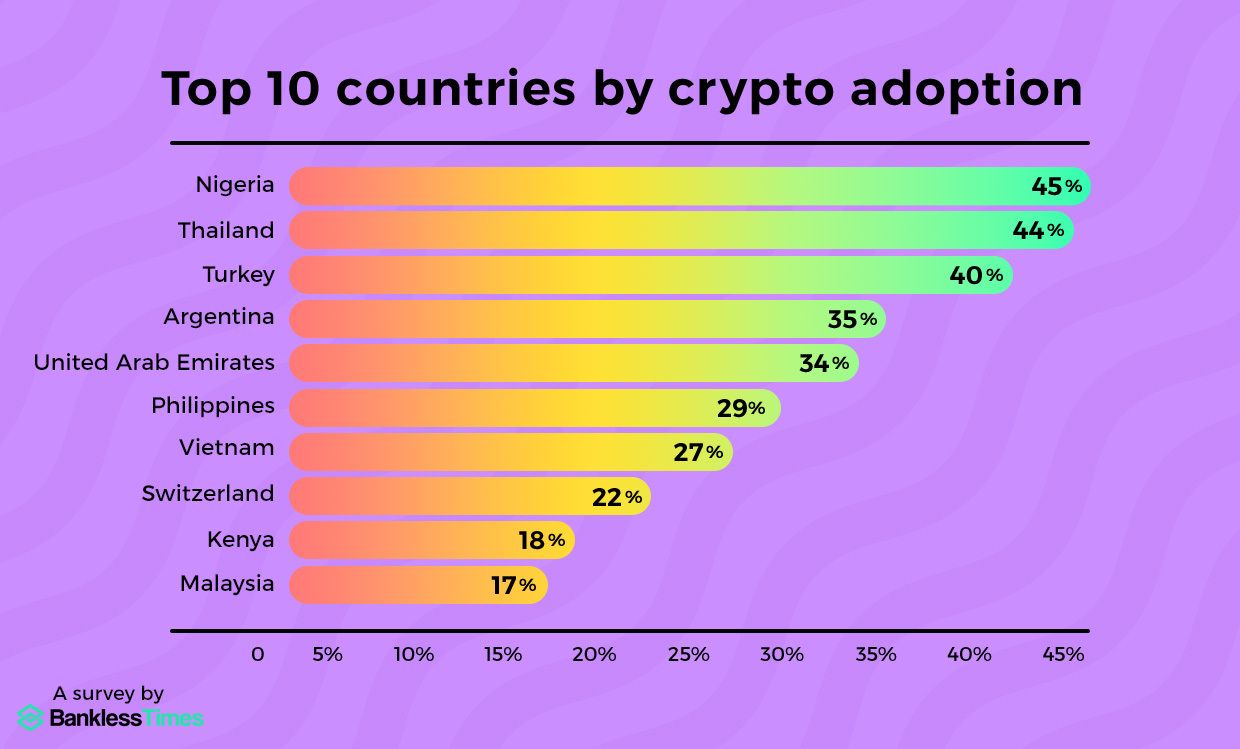 Ownership by Age Group
The 25-34 age demographic is the largest ownership group, closely followed by those aged 35 to 44. Interestingly, the 65 and over age group is the fastest-growing segment, albeit currently the smallest. One reason cited as spurring this uptick in elderly crypto holders is the decision made by traditional investment firms like Fidelity to incorporate  Bitcoin into their retirement plans.
Crypto Payments
With the rise in acceptance of cryptocurrency payments, the global cryptocurrency payment apps market size is expected to increase by 16.6% over the next 8 years, reaching roughly $2.15 billion in 2030. The current market value is estimated to be around $626.4 million.
According to data from PYMNTS, 40% of consumers interviewed had made an online purchase using cryptocurrencies in the 30 days prior to the study being conducted. Data also revealed that 35% of consumers prefer merchants that accept crypto, and 26% said they would switch to merchants that already accept crypto. Merchants accepting cryptocurrencies saw returns of 327%.
People using crypto for purchases currently sits at 10.7% of crypto owners or 3.6 million adults, illustrating a 68.6% year-over-year increase.
To this end, the principal analyst at Insider Intelligence, David Morris, commented: "Last year was all about networks building crypto payments infrastructure. We expect that more crypto options will be layered into how people pay, like cards and digital wallets. These factors should spur high crypto payment growth rates over the next few years."
It is believed that in 2023, the number of people using cryptocurrency for payments will increase into the double-digit range.
Corporates Invested In Bitcoin
The end of 2020 brought about a wave of institutional investment, with large companies investing millions (in some cases, billions) into the largest cryptocurrency. Below is a look at the companies with the largest BTC holdings.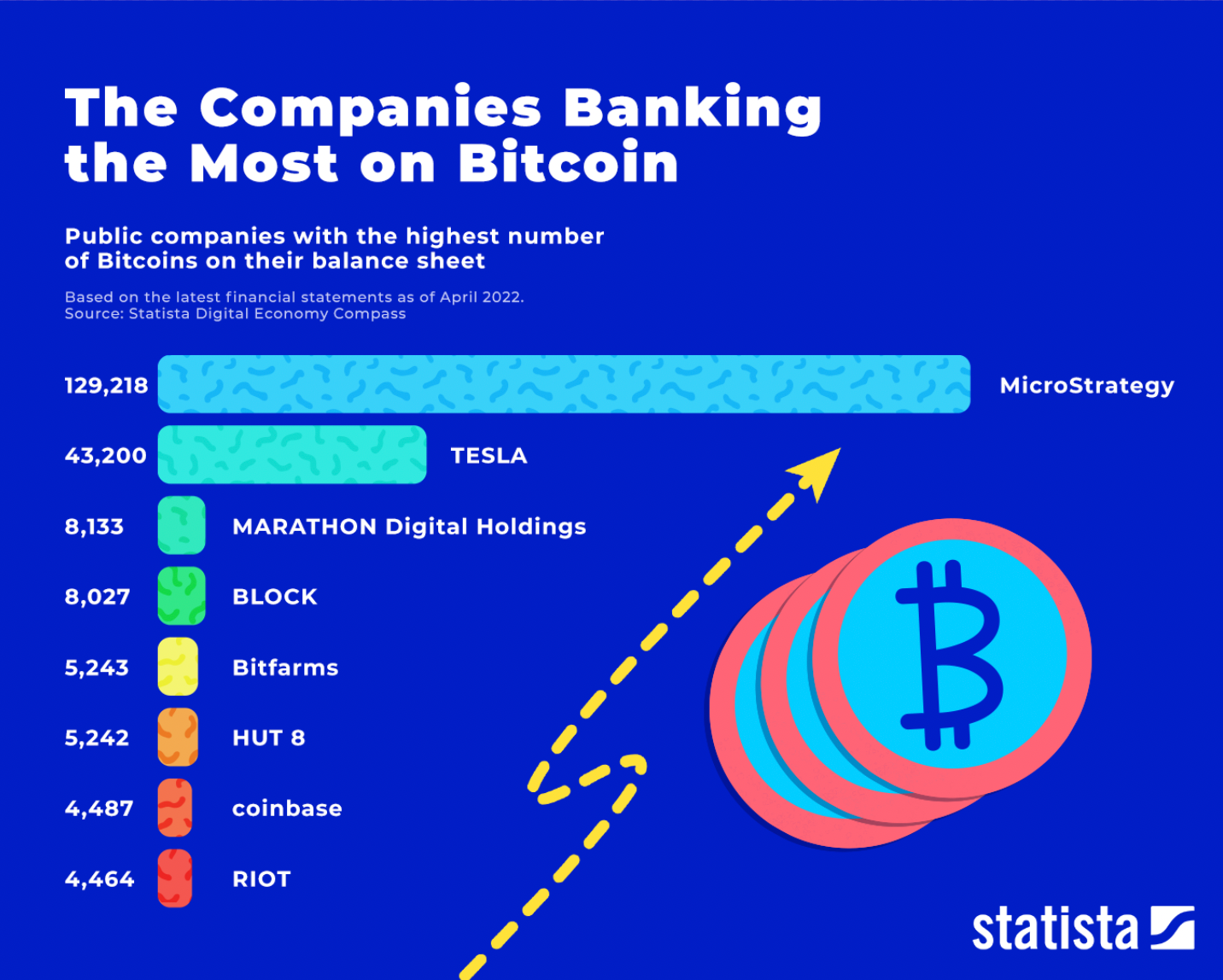 Fidelity reports that 58% of institutional investors invested in digital currencies this year with roughly 82% of high-net-worth individuals already invested in crypto.

While allocations remain low, 1 in 3 hedge funds have incorporated cryptocurrencies into their portfolios this year, a significant jump from 1 in 5 reported just last year.
Regulation Update
In a round of what has been happening on the regulation front, there were several reports released this month that explore various aspects of the industry and the necessary policies that can be put into place.
The Group of Central Bank Governors and Heads of Supervision (GHOS), the oversight body of the Basel Committee on Banking Supervision, released a Standard which provides a regulatory framework for banks around the world with regards to their exposure to crypto assets. The Standard aims to provide regulatory guidelines that preserve financial stability while promoting innovation. The Standard is set to be implemented in January 2025.
In two separate cases, the Securities and Exchange Commission (SEC) has charged eight social media influencers in a $100 million securities fraud stock manipulation scheme and four individuals in crypto pyramid scheme that targeted Spanish-speaking communities. The cases highlight America's growing crackdown of crypto related offences, bringing justice for those wronged in the notoriously unregulated space.
The SEC is also responsible for charging disgraced FTX founder, Sam Bankman-Fried, with conducting a scheme to defraud investors. In the Philippines, the Bangko Sentral ng Pilipinas (BSP) took the stage at the 5th Financial Education (FinEd) Expo to promote the benefits of digitization and how it can support the financial health of Filipino families. The central bank also flagged the importance of "responsible personal debt management, financial planning, and risk management."
Markets vs Usage
While the markets might be in a slump, the trajectory of crypto ownership and payment usage is continuing to increase. Though this typically bodes well for asset prices, however, this might take a while to be realized.
As more businesses incorporate cryptocurrencies into their payment options, the industry as a whole is solidifying its foundation within the global financial sector. Whether buying crypto to hold or to use for payments, the world is waking up to the convenience of digital currencies and the notion that cryptocurrencies are here to stay.

---
Oobit Technologies Pte, 50 Raffles Place #37-00 Singapore Land Tower, Singapore (048623). is a company registered in Singapore (no:201716443G), that has been approved as Appointed Representative of Oobit Technologies OÜ, Harju maakond, Tallinn, Lasnamäe linnaosa, Väike-Paala tn 2, 11415, (no: 14852617 ). Which is authorized and regulated by the FIU (no: FVR001421 and FRK001304).